OUR PURPOSE & VALUES
Domino's is a purpose-inspired and performance-driven company with exceptional people who are committed to feeding the power of possible, one pizza at a time. At the heart of our brand is a set of values that define our core beliefs on how we run our business, treat our people, support our franchisees and serve our customers: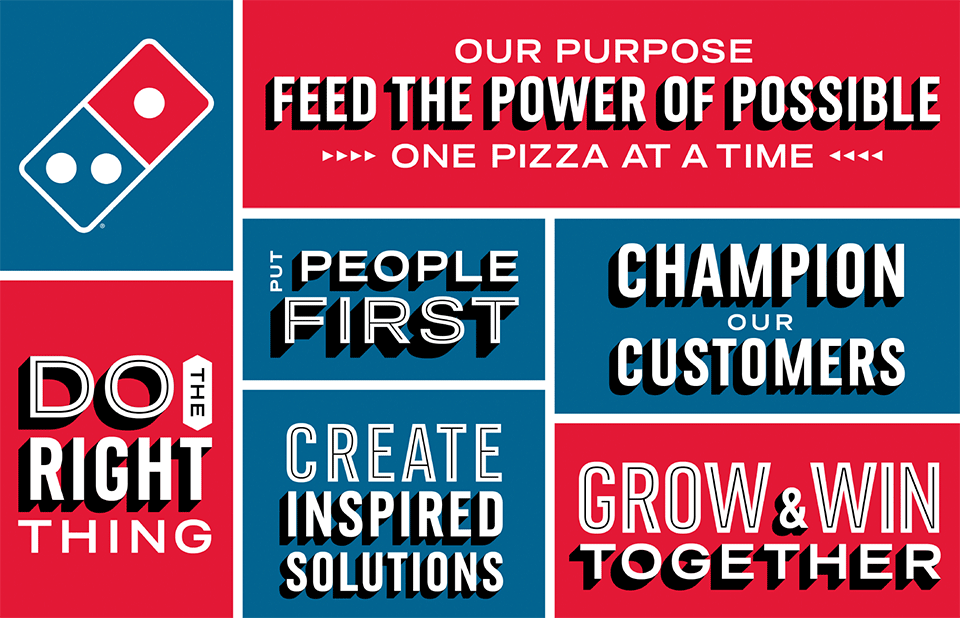 Do The Right Thing
We act with integrity and make disciplined decisions, even when it's difficult or unpopular. High ethical standards and uncommon honesty are at the heart of how we work together. We are committed to safely and responsibly serving our customers, and giving back in the communities where we live and work.
Put People First
We create an inclusive culture, knowing our people are core to our success. We treat each other with dignity, respect, and we value the differences each team member brings. We strive to be a company where all team members can bring their full selves to work and know that they belong, contribute and reach their potential.
Create Inspired Solutions
We are a company built on entrepreneurship and innovation. We become better every day by having the humility and courage to embrace and lead change. Together, we unlock our collective potential to be bold, think big. We have a bias for action – to solve customer needs in new and relevant ways.
Champion Our Customers
We deliver on our promises, treating each order and interaction as an opportunity to deepen relations by delivering great product, service, and experiences. We hold ourselves accountable, and if we don't deliver on a promise, we'll make it right.
Grow And Win Together
We are not playing a finite game. We are committed to building an enduring brand that outlives any of our individual contributions. We will grow together, deliver exceptional results together, celebrate wins together, have fun together and leave the brand in a better place for those who come after.