St. Jude Children's Research Hospital®
Domino's named St. Jude Children's Research Hospital its national charity partner in 2004. In the first 15 years of the partnership, Domino's raised more than $69 million for the kids of St. Jude. St. Jude is leading the way the world understands, treats and defeats childhood cancer. Since its opening in the 1960s, St. Jude has increased the survival rate of childhood cancer from 20% to 80%.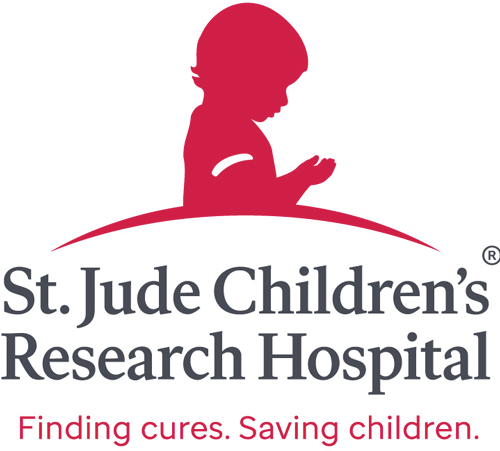 But there is work to be done: St. Jude will not stop until no child dies from childhood cancer. To help St. Jude achieve this vision, Domino's made a commitment in 2020 to raise $100 million in 10 years. This commitment, the largest corporate commitment in St. Jude's history, will help open The Domino's Village. The Domino's Village, a patient housing facility featuring 140 apartments, will open to families in spring 2023.
Most funds raised by Domino's for St. Jude is through the annual Thanks and Giving campaign – when team members in corporate and franchiseowned Domino's restaurants fundraise for 11 weeks. Throughout the rest of the year, customers can round up their total and donate the change to the kids of St. Jude.
St. Jude and its lifesaving mission has become embedded in the culture at Domino's. Domino's team members participate in fundraising events like the St. Jude Walk/Run to End Childhood Cancer and St. Jude PLAY LIVE to support the kids all year long.
Learn More About The Domino's Village

Agriculture
Domino's loves farmers – without farmers, there would be no pizza. Wheat farmers, dairy farmers, tomato farmers, and many more in the agriculture industry, are fundamental to our business, and our society.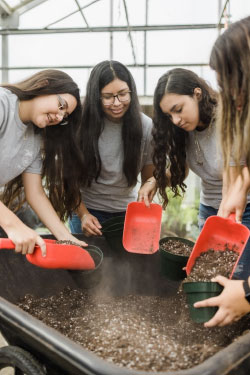 We are proud to support farmers and the agricultural industry across the country by giving directly to the National Future Farmers of America organization (FFA). FFA promotes and fosters agriculture education through FFA programs in schools.
In 2022, Domino's announced a five-year, $1.5 million pledge to the organization. This gift will fund the development of educational resources on what sustainable agriculture looks like, as well as collegiate scholarships and grants to support FFA students' entrepreneurial agriculture projects.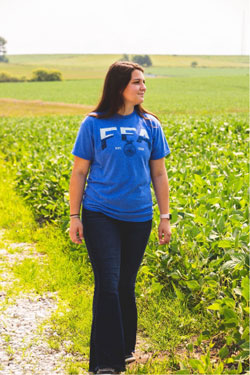 Domino's began its relationship with FFA in 2017 with a five-year, $1 million commitment that supported the organization's agriculture literacy and advocacy programs, and its Living to Serve platform, which promotes hunger and environmental initiatives in local communities. Like the latest commitment, the initial contribution also funded collegiate scholarships for 90 students, and covered grants for supervised agriculture experiences for 100 high school students.
As a brand, we are proud to stand behind the farming community, and our renewed and elevated partnership with FFA is a nod to how important the agriculture industry is to our business. FFA is strengthening the future of agriculture in the United States and Domino's is grateful for the opportunity to support them along the way.
Learn More About Domino's Renewed Support of Future Farmers of America

Environment & Sustainability
In 2020, Domino's began focusing on different environmental issues, including reforestation, recycling and the water crisis, by partnering with nonprofit organizations.
Domino's partnered with its box suppliers and nonprofit organization The Recycling Partnership in an effort to increase awareness of the recyclability of pizza boxes – diverting valuable corrugated fibers from landfills to the recycling stream. Learn more at recycling.dominos.com .
With One Tree Planted , Domino's has planted 100,000 trees since 2020 across North America, including in Etoniah Creek State Forest (Florida), Chippewa National Forest (Minnesota), C&O Canal National Historic Park (Maryland) and various watersheds in Oregon, for example.
In 2021, Domino's became an official brand partner of charity: water by funding projects to bring clean water to more than 4,000 people in Rwanda.

Inclusion & Diversity
Fostering inclusion and diversity is simply the right thing to do. Domino's is committed to building a culture that welcomes, seeks to understand and values everyone's whole self, and this includes in our communities. Domino's supports organizations dedicated to addressing the specific needs of minorities and other under-represented populations.
Commitment to the Black Community
In 2020, Domino's made a public statement denouncing racism. In that statement we made a commitment to the Black community, which included $1 million over three years dessignated for nonprofit organizations working to uplift the Black community. Organizations we're building relationships with include 100 Black Men of America, BMe Community, Pretty Brown Girl and UNCF.

Local Neighborhoods
Domino's is dedicated to delivering a difference to the communities in which we are proud to live and serve. Our corporate giving is primarily directed to organizations in the southeastern Michigan area, where we were founded and are headquartered, and in the cities our corporateowned stores are located (Baltimore, Houston, Las Vegas, Miami, Norfolk, Va., Phoenix, and Salt Lake City).
We focus on smaller organizations well-connected to their community, especially organizations focused on basic needs, job-readiness, entrepreneurship, public service and youth development. Domino's is also proud to fund other projects enriching neighborhoods, including library expansions, children's theater series and museums.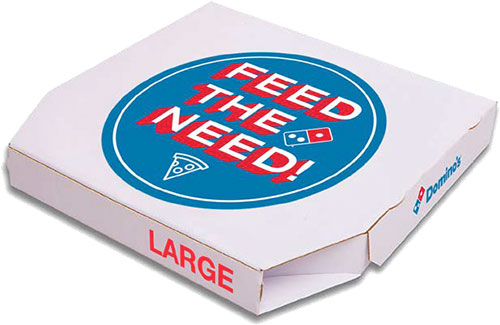 Pizza Relief
Domino's stores across the country continue to deliver pizzas to people in times of unexpected need, as they have since our founding in 1960. We call it pizza relief. We put corporate dollars behind that effort to amplify the good work franchisees are doing. We are proud of our system for the dedication and ability to come together and provide needed support to the communities we serve in the wake of terrible disasters like hurricanes and flooding, fires and extreme cold, among other emergency situations.
Feed the Need
In April of 2020, during the start of the global COVID-19 pandemic, Domino's and its nationwide system of franchisees banded together to donate roughly 10 million slices of pizza within their local communities. Domino's partnered with its franchisees as part of this national effort, so that hospitals and medical centers, schoolchildren and their families, health departments, grocery store and postal workers, and others in need could enjoy a hot, delicious pizza. Stores, both corporate-owned and franchised, actively looked for who they could help in their local communities and took pride in how they were able to make a difference.
Partners Foundation
Taking care of the community of people inside of Domino's is vitally important too, which is why our internal Partners Foundation is so important to our efforts to give back as a brand. Formed in 1986 as an independent nonprofit organization, the group's primary objective is to provide financial assistance to Domino's franchise and corporate team members in need.
The Partners Foundation is generously funded with donations received primarily through voluntary payroll deduction programs, franchisee contributions and various fundraising activities. In 2020, Partners distributed more than $1.9 million in financial assistance to approximately 1,500 Domino's franchise and corporate team members. Since Partners began, more than $23 million has been allocated to team members who have been affected by illness, injury, fire, accidents or natural disasters.
More on the Partners Foundation