Local Franchise Organization Holds Third Annual Women's Empowerment Day
In celebration of Women's History Month, we are highlighting and sharing stories from a variety of female corporate and franchise team members throughout the Domino's brand.
Published: March 18, 2021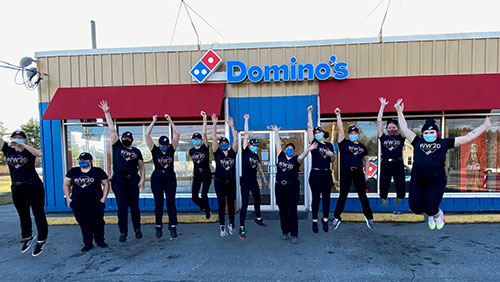 Each year in November, the Domino's franchise organization Team Prior Inc., based out of Maine, celebrates their annual Women's Empowerment Day – an event where they staff a store entirely with women from open to close and donate 50% of their sales to a charity selected by their female team members. This past year, they donated $2,500 to Through These Doors, a domestic violence resource center that serves victims and survivors of domestic abuse, dating violence, and stalking in Cumberland County, Maine.
This past year's event was spearheaded by three women in the organization: General Manager Valerie Summers, Area Supervisor Heather Barriault and Team Prior Vice President Amanda Prior. Amanda, whose husband Lee Prior is a franchisee, came up with the concept of holding a Women's Empowerment Day back in 2018.
"I was talking with Heather, who was a manager back then, about doing something special for the 100-plus hardworking women in our stores," she said. "What began as an attempt to gather and celebrate their in-store accomplishments evolved into something a little deeper. Now it's about empowering the women in all of our lives and supporting the causes that are most important to them."
Amanda noted the impact the annual event has had on her, saying there is no greater feeling than giving back.
"I want to take the position I am in and the opportunities I have been given and use them to give back to people that need it," she said. "Working side by side with so many other women from around our stores, knowing we are all there to raise money for a great cause? That's as good as it gets."
Women's Empowerment Day is an impactful event for Team Prior's culture, as it gives women in the franchise organization their own special day.
"They take a lot of pride in the service of the store that day and in supporting a local charity," said Amanda.
To foster a great workplace for women, Amanda suggests having an open line of communication where all females feel comfortable and supported.
"Everyone should feel like their voice is important and will be heard," she said. "We want everyone within our organization to know that no matter their gender, age or national origin, there is an opportunity to take their career far with us."
---
For more information on this story, contact us.