Life-Changing Delivery Routes
Domino's Team Members Gain Financial and Career Stability as Truck Drivers
Published: Feb. 10, 2020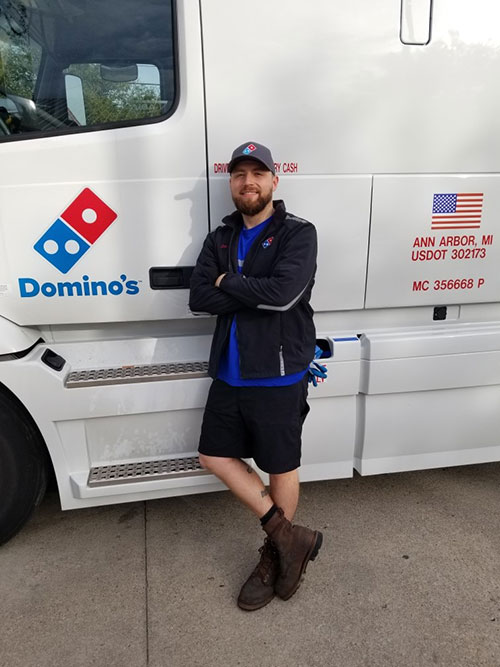 In 2015, Joe Rogers was working at a Domino's supply chain center in Texas, supporting his family by loading trucks with dough and product for stores. However, he and his family lived with his wife's aunt to help make ends meet.
"In the warehouse, you make good money, but it's tougher to do things because money is tighter," he remembers. "I knew the time was going to come for me. All I had to do was work hard."
Joe worked toward the goal of becoming a supervisor but was presented with a new opportunity – to become a semitruck driver for Domino's.
He was invited to join Domino's Driver Development Program and take a class to earn his CDL Class A license. The program offers Domino's team members the opportunity to move from hourly supply chain or store positions into high-paying, salaried truck-driving jobs. Domino's covers the cost of driving school and the license, and then pairs new drivers with trainers who teach them the ropes.
Joe remembers when he first sat behind the wheel of an 18-wheeler at his driving school back in late 2015. Although it was intimidating to drive it for the first time, he now works a teamed route, doing same-day runs three times a week, leaving at 1 a.m. and getting back between 5-6 p.m.
Joe says the opportunity to be a driver has made a big impact for his family. He has four children now, and he and his wife are in the process of building a new home.
"When I saw my first paycheck, I knew it was going to change everything," he said. "We're living comfortably now … It's a great feeling when you're able to provide like that."
Delivering 30,000 Pounds
Jorge Garcia joined the Driver Development Program in 2018 after seeing fellow team members like Joe join the program. He thought, hey, why not give it a shot?
When he became a driver, he had to adjust to the physical nature of the work. Domino's drivers unload product at stores. Jorge and his driving partner deliver an average of 30,000 pounds per run to 8-15 stores. Seeing the appreciation from store team members helps him know his hard work is paying off.
"It puts a smile on my face when they interact with me and say, 'I love how you rotated the cooler,'" he said.
He's also motivated by the example he's setting for his children by having a solid career path in the delivery industry.
"My No. 1 thing is supporting my family – for them to be proud of me," Jorge said.
Time for Family
Kentucky driver Tadd Foley likes the amount of time that he has at home with his family now, compared to previous jobs he's held. He works two long overnight runs a week, which means he's home five days and on the road two days.
"I'm home a lot now," Tadd said. "Before with the other jobs I had, I always worked late night shifts. I don't have to do that now. I do my work and I come home."
Tadd recently needed to take time off to be with a family member when he became terminally ill. His supervisor made sure his routes were covered so he could have the time off he needed.
"I remember my supervisor saying, 'The No. 1 thing here is family,'" Tadd said. "I can't begin to explain how much I appreciated that flexibility so I could be with my family."
Tadd credits his job as being a blessing to his family.
"I don't mind the hard work," he said. "I like the physical part of it … I could never see myself in a desk job."
---
For more information on this story, contact us.