Domino's Hosts Educational Webinar for International Transgender Day of Visibility
Published: April 8, 2021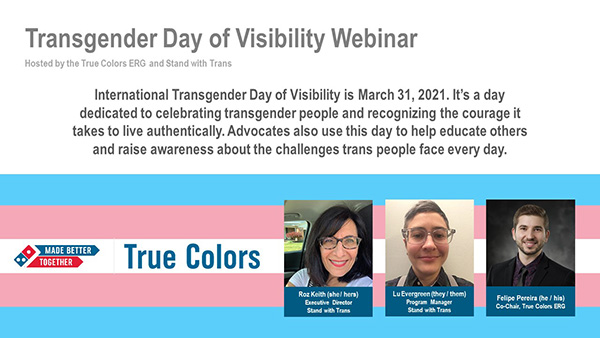 "Working Together Towards Inclusivity and Allyship." Not only was that the title of a webinar watched by hundreds of Domino's corporate team members in honor of International Transgender Day of Visibility (TDoV) on March 31, but it's also an objective that aligns with some of the brand's core values.
The virtual event, hosted by Domino's LGBTQIA+ Employee Resource Group (ERG), True Colors, featured two educators from Stand with Trans – a Michigan-based nonprofit whose mission is to provide the tools needed by transgender youth so they will be empowered, supported and validated as they transition to their authentic life.
Nearly 300 Domino's corporate team members spent their lunch hour learning and growing.
"I love that Domino's is actively taking steps to educate about transgender people, as well as other groups of people that are marginalized," said Jenn Fowler, Domino's specialist – IT products. "I think it's especially important now that our companies highlight these groups of people who wouldn't otherwise be given a voice to discuss the problems they face just by being themselves, and I'm proud to work for a company that does that."
The TDoV webinar was Domino's third event centered around inclusion and diversity in the past few months.
Kelly Eldracher, Domino's franchisee business director, echoed Jenn's sentiment.
"The webinar was great; the environment was safe and conversational," Kelly said. "Had the invite not popped up on my calendar, I probably never would have set aside the time to learn about International Transgender Day of Visibility, what it is and the history behind it. I'm grateful for Domino's and the True Colors ERG for providing a platform for learning."
Prior to the event, Domino's corporate team members began using new email signatures that offer the option to share gender pronouns – a topic covered in the webinar.
"The pronouns discussion was a key takeaway for me," said Iva Mihaylova, Domino's specialist – consumer insights. "You hear about using proper and preferred pronouns, but it was helpful to hear the appropriate way to lead with that conversation and also how to be more inclusive when addressing groups of people."
Christopher Reed, who is a Domino's associate in franchise services, said he plans to offer his pronouns when meeting someone new, and that he has greater empathy for what members of the LGBTQIA+ community faces every day.
"I thought the webinar was excellent," said Ana Wagner, a Domino's HR generalist. "Moving forward, I will show more compassion and continue to educate myself on trans issues and how to be a better ally."
---
For more information on this story, contact us.