Tommy Daigle III: Dedicated to Service
Published: Nov. 12, 2019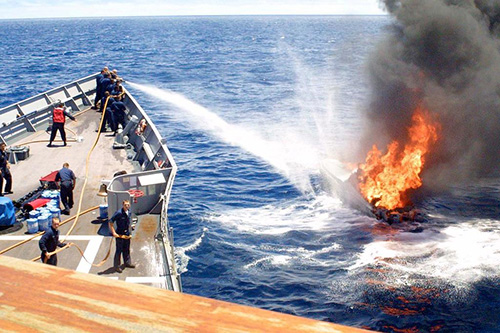 This is the second of a two-part series that recognizes and honors those who have served our country. Domino's thanks you for your service!
The months following 9/11 were fast-paced and anxious, as Walter (Tommy) Daigle III remembers from his time in the Navy.
"Everything changed," Tommy said. "When you join, you understand that you write your country a blank check, up to and including, your life. After 9/11, it became a little more real."
Tommy joined the U.S. Navy in 1999. He had just graduated high school, and it was peacetime for the U.S. military. Just three short years later, Tommy found himself conducting counter narcotic operations in the Pacific Ocean to prevent drugs from entering the U.S.
One of the missions he recalls most vividly involved apprehending a mother ship which was carrying 10 tons of cocaine and five foreign nationals and attempting to enter the U.S. to conduct terror attacks.
"Knowing that I was doing my part in the war on drugs and the war on terrorism made me feel extremely honored and humbled," he said. "Providing service to others is what we were put on Earth for, and the military is a great avenue to gain that experience."
Tommy completed his service in 2006, and discovered he had an interest in supply chain through managing inventory for a small repair shop. While raising his young son as a single father, Tommy searched for a way to make his goals come to fruition.
He began to attend night classes to earn his degree in business administration while working full time and caring for his son. Tommy enjoyed applying classroom theory to his daily work and went on to also earn his MBA in entrepreneurship.
"It was definitely busy," he said. "It was hard because I didn't realize I had to do it on my own, but you're the only one who can set your direction for the future."
Tommy went on to work in restaurant supply chain management and then a chemical distribution company. However, after getting married in 2015, he and his wife felt the call to be closer to family and he wanted a change of pace in his career. Luckily, Domino's was just the right type of pace for Tommy.
Tommy previously worked in the restaurant industry, and he liked the fast-paced environment. He saw Domino's as a place to build a legacy.
In 2018, he joined Domino's to help lead supply chain strategic projects. Every day, he applies his purpose to serve others, and it drives him to provide great solutions for Domino's supply chain.
"I serve supply chain centers – everyone from the director to the new hire who just started," Tommy said. "They don't know me, but my higher calling is to serve them. If I can serve another Domino's team member in a supply chain center, I know I'm doing my job."
---
Did You Know?
Veterans make up 5% of Domino's franchisees.
More than 200 Domino's stores across the U.S. are owned by veterans.
Domino's has franchisees who are veterans in 20 states.
Domino's has 145 stores that are located on or near military bases across the country.
---
For more information on this story, contact us.