Domino's Team Members Fundraise for St. Jude
Published: Sept. 24, 2021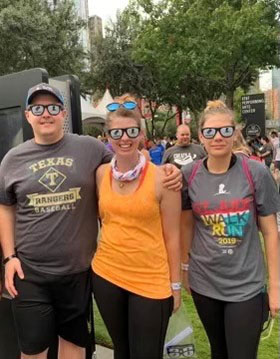 Adam and Kristin Grigsbay are what you might call a Domino's power couple. They're both general managers for stores owned by Domino's franchisee Corey McKanna, and they're both superstar supporters of St. Jude Children's Research Hospital.
Each year, Domino's raises money to support St. Jude's lifesaving mission: to find cures for children with cancer and other catastrophic diseases through research and treatment. In addition to participating in St. Jude's annual Thanks and Giving campaign, corporate and franchise team members, like Adam and Kristin, fundraise through events like the St. Jude Walk/Run to End Childhood Cancer and St. Jude PLAY Live – a video game streaming event.
Adam and Kristin's Domino's story began when they started working as delivery drivers – Adam in 2011 and Kristin in 2016. That is also when they first learned about St. Jude and Domino's fundraising efforts for the hospital.
"Before working for the Domino's brand, I didn't really know much about St. Jude," Adam said. "Corey McKanna has always been passionate about it, and he inspired me to help any way I can."
Becoming involved with St. Jude events opened a whole new community for Adam and Kristin – a very supportive community.
"The first time I went to a St. Jude Walk/Run, I was honestly just blown away by the amount of people, and the amount of support St. Jude received from the community," he said. "Once you've been to one event, you will want to keep coming back."
"Seeing everyone who is there to support St. Jude is so powerful … it's amazing to meet other franchisees and businesses coming together as one," Kristin added.
The Recipe for Success
For Adam and Kristin, the key to a good fundraising lies in remembering the reason behind it all – ending childhood cancer – and keeping that fresh in the minds of everyone participating. Once people understand what they're raising money for, they're typically eager to participate. Adam and Kristin noted that educating others about St. Jude's work is important and so is inspiring those around you through your own actions.
Adam also encourages fellow store team members to try to get creative and have fun with the campaign. One year, his store raised $3,255 by selling raffle tickets to their customers. The proceeds went to St. Jude, and the raffle winner received a free pizza every week for the next year.
In 2020, Domino's made a commitment to raise $100 million for St. Jude by 2030. Domino's stores and franchisees continue to support St. Jude each year, as patient families never have to pay for treatment, travel, housing or food — because all a parent should worry about is helping their child live.
---
For more information on this story, contact us.