Four Domino's Stores Across Three Time Zones Make Surprise Virtual Pizza Party Possible
Published: Jan. 14, 2021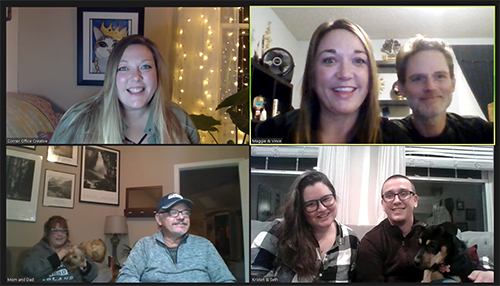 It's no surprise that stay-at-home mandates during COVID-19 put a damper on many people's plans in 2020. Family gatherings and holidays were cancelled, and special occasions were postponed. People had to be creative when it came to planning, including Maggie Brittle.
Maggie and her family make it a point to get together every year to celebrate birthdays, which is quite a feat considering she and her parents reside in Texas, her brother lives in New Jersey, and her sister is in Oregon.
This year, Maggie wanted to plan a surprise birthday party for her mother. Due to the pandemic, she knew the family would not be able to gather in person, but they could still be together in spirit.
She came up with the idea to host a surprise virtual pizza party, catered by Domino's, for her mother. The plan was simple: Maggie would set up a Zoom call and order pizza, wings, and Marbled Cookie Brownies (Maggie's mother's favorite dessert) for everyone and have them delivered at the same time. That meant for the surprise pizza party to be successful, Maggie would have to rely on four separate Domino's stores across three time zones to deliver at the same time. Could it be done?
Maggie had high hopes. She previously depended on Domino's for events that her company hosted for the Boys and Girls Club of Collin County in Texas.
"Every year we host a back-to-school event for the Boys and Girls Club and we've had our local Domino's deliver 100 pizzas – always at a very specific time," she said. "Never once did they disappoint. I had faith they would see my mother's virtual surprise party through as well."
On Nov. 18, 2020, the night of the birthday, Maggie placed all of the timed orders. She had arranged for each delivery to arrive just after the Zoom call was beginning.
"My sister's order in Oregon arrived first," said Maggie. "She played it off like it was a mistake and just started eating. One minute later, my brother's doorbell in New Jersey rang. Soon after, my mother received her order, and then mine arrived."
And just like magic, all the orders from the four stores were delivered within five minutes of each other. The entire family was eating the same meal, at the same time. And although they weren't physically together, for that moment, it felt like they were at the same table, sharing the same meal.
"We all put candles on our Marbled Cookie Brownies and sang to our mom," Maggie said. "It wasn't a typical birthday or what was planned; it was improvised due to the pandemic. But it was a birthday we will never forget – thanks to Domino's."
---
For more information on this story, contact us.