Domino's® Franchisee in Massachusetts is Donating $500k in Free Food
Published: Sept. 8, 2022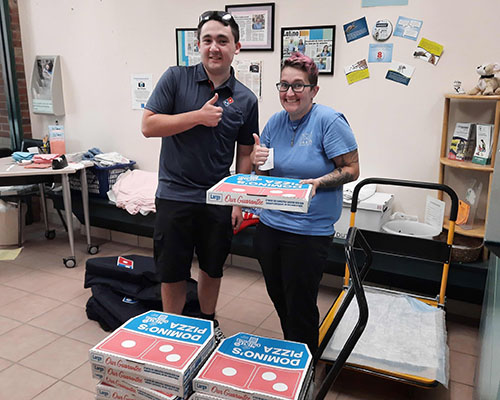 At Domino's, putting people first and doing the right thing are two of our core values. It's hard to find a better example of that than what's happening in Springfield, Massachusetts, where franchisee Augusto "Gus" Garcia is donating half a million dollars of free food throughout his local community.
In what Gus is calling the "Summer of Giving" program, the $500,000 will be split between donations of pizzas and 35,000 vouchers for free pizzas or side dishes. Gus' franchise, Team Springfield Pie, is working with local organizations like schools, churches, the YMCA, the Springfield Boys and Girls Club, homeless shelters, and more to distribute the vouchers.
"We believe that this is the right thing to do, to give back to the community that always helped us when we needed to sell pizza ... there is no other way around running a business in Springfield than giving back to the community," Gus said.
Giving back has always been a part of what Gus does. He began working at Domino's in 1999 as a delivery driver and worked his way up. In 2014, he became a franchisee and now owns five stores throughout Massachusetts.
"The Garcia family is passionate about helping the community of Springfield; that is why we offer our time and support to causes that matter," he said.
---
For more information on this story, contact us.