Domino's Stewardship: An Important Step to a Better Future
Published: Jan. 31, 2022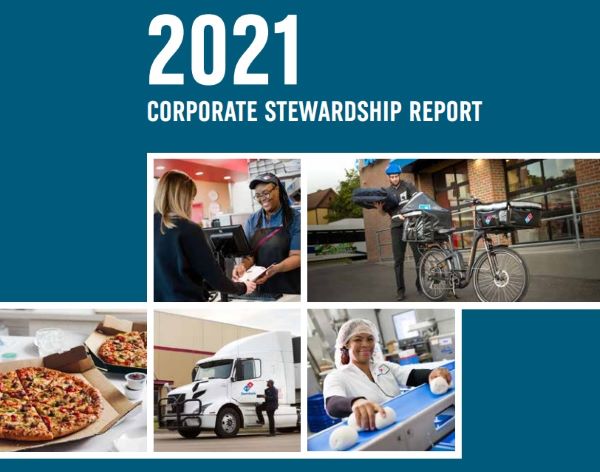 Domino's has long been a "brand in progress," striving to grow, improve and lead the way to a better future. In 2020, Domino's initiated a drive to better understand our environmental and social impacts. With the help of outside experts, we set forth a plan to measure and quantify our environmental footprint, as well as identify opportunities to get better.
After a long road to complete the initial round of analytics and research, the results have finally come to life in Domino's 2021 stewardship report. This report has allowed us to establish our inaugural vision for stewardship: to deliver the power of possible every day for the communities we serve, our people and the planet.
In order to fulfill our vision, Domino's has established four areas of long-term goals:
Environmental Footprint
This includes our ambitions and targets around reducing our greenhouse gas emissions and optimizing our energy usage, reducing our water usage across the Domino's system, increasing recycling of pizza boxes nationwide, and reducing waste in our system.
Responsible Sourcing
Domino's sourcing goals incorporate increasing transparency for our supply chain, clarifying and publishing our supplier standards and food safety requirements, enhancing our animal care standards, and amplifying our efforts to reduce deforestation.
Empowering People
Domino's focus on people and encouraging them to come to work with their authentic selves is at the core of our growing inclusion and diversity efforts, as well as our other ambitions which include programs around team member wellbeing, expanded development pathways, and supporting franchisee development
Community Impact
Domino's has a long history of caring for the communities we serve. We will grow our reach by expanding local giving programs, increasing our commitments to national nonprofit partners, and exploring opportunities to reach out to communities in time of crisis and need.
Domino's stewardship report marks an exciting new chapter, as our "brand in progress" works to become even better!
---
For more information on Domino's stewardship, visit stewardship.dominos.com.