Domino's: A Lifelong Passion
Published: March 18, 2019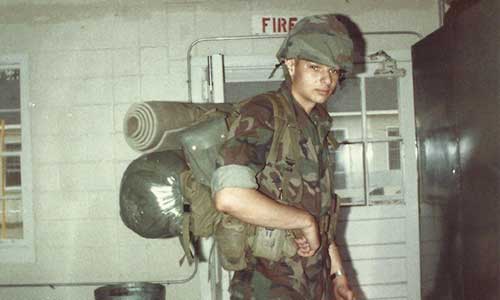 When Stan Gage was stationed with the Marines at Camp Geiger in 1985, he had no idea he would be back in Jacksonville, North Carolina 30 years later … but this time, as a local resident and business owner. His life would come full circle.
Stan joined the Marine Corps Reserves straight out of high school. He had no money and no idea what he wanted to do after graduation, but after his cousin suggested he meet with a recruiter, he gave it a go.
Stan's experience in the Marines ended up shaping him into the individual he is today. He learned a number of valuable skills while serving – the biggest one being discipline. After going through boot camp and infantry training school, nothing could phase him. Being in the military prepared him for what was next.
After he graduated from schooling at Camp Geiger, Stan went back to his hometown of Cleveland to serve in the Reserves. He saw a help wanted sign in the window of the local Domino's store and decided to become a part-time delivery driver to earn some extra cash. Stan continued working at Domino's during his five years with the Marine Reserves, as he advanced from delivery expert, to assistant manager, to store manager and then area supervisor. Stan fell in love with the business and he knew his Domino's story wouldn't stop there.
After working in a Domino's store for nearly four years, Stan joined the corporation as an area supervisor in 1989. He then became a regional training director and in 1994, he began working at Domino's corporate headquarters in Ann Arbor, Michigan as the national director of corporate training. Stan led a number of teams and held key roles throughout the years, including vice president of learning and development; vice president of the Europe and Midwest regions; vice president of operations training and support; and executive vice president of Team USA (Domino's corporate stores).
"I started my career in a Domino's store, and then spent 30 years climbing the corporate ladder. I had a fantastic career with the company, but there was one thing missing – I missed being in our stores," Stan said. "I love taking care of customers and bringing smiles to their faces."
So, in 2018, Stan made the decision to go back to where it all started and purchase his own Domino's stores. However, he didn't purchase them just anywhere.
"I came back to the Jacksonville, North Carolina area because I wanted to proudly serve those who serve our country," he said. "They give up so much and if I can help them in just one small way, whether it means bringing them together over a hot pizza dinner, I'll take it."
Stan's 12 Domino's stores surround Camp Lejeune and Cherry Point, which are both U.S. Marine Corps bases. He actually lives less than a minute from Camp Geiger, which is where it once all began.
"I'm proud of my Domino's story and thankful that I was given the opportunity to grow both within stores and within Domino's corporate headquarters," Stan said. "That's the beauty of Domino's – whether you want a part-time job or long-term career, you get back whatever you put in."
---
For more information on this story, contact us.