Domino's® Supports Local Law Enforcement Holiday Events for Youth
Published: Dec. 21, 2022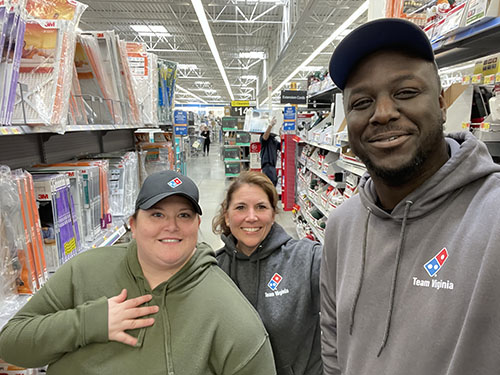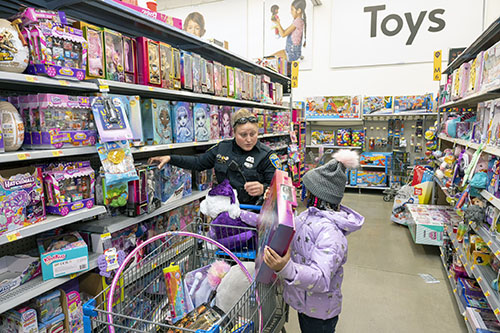 In the early weeks of December 2022, Domino's proudly supported "Shop with a Cop" events hosted by law enforcement agencies in seven cities across the country. Shop with a Cop events typically involve law enforcement working in partnership with schools and other local agencies to identify youth in need. Each child or family is then partnered with a public safety officer who helps them shop for gifts for their family members – and themselves!
The seven Shop with a Cop events that received support from Domino's represent the communities where Domino's was founded and headquartered – Ypsilanti and Ann Arbor, Michigan, respectively – and the locations of many Domino's corporate-owned stores – Baltimore, Houston, Las Vegas, Miami and Henrico, Virginia.
Domino's made monetary contributions to each agency's programs to help fund the gifts purchased. Because of these funds, as well as the donations of pizza and gift cards, Domino's was able to reach more than 1,200 families in these communities where we are proud to live, work, and serve.
In Houston, the holiday events were a culmination of the yearlong participation of youth in the Greater Houston Police Activities League (GHPAL) program. GHPAL's mission is to reduce juvenile crime and violence through relational policing by building trusting relationships between youth, law enforcement, and the community.
"The officers invest their time and hearts into this program," said Sgt. Letricia Brown, with Houston Police Department's Office of Community Affairs. "Seeing the smiles and hearing the laughter of the youth brings joy and fulfillment to the officers. The GHPAL program provides officers a sense of purpose and allows them to share their passion for discovering one's purpose with the youth."
The Washtenaw County Sheriff's Office (WCSO) supports more than 200 youth in the Ann Arbor and Ypsilanti, Michigan, area. In addition to being able to purchase gifts, each participating child received winter outerwear, a backpack, toiletries, a gas card and a Domino's gift card.
"For many of these families, if it weren't for the Washtenaw Shop with a Cop program, they would not have a holiday celebration," said Lt. Katrina Robinson, with WCSO Police Services. "These events provide local police officers an opportunity to engage hundreds of children in a positive environment and allows them to experience some magic, while empowering the children to bring magic to their families, too!"
Nona Sonnier, Domino's director of corporate operations in Virginia, attended the event in Henrico with members of her team.
"My favorite part of the event was seeing how happy the kids were to receive their Domino's gift card from us," said Nona. "They were so excited to be able to order pizza for their families. I loved hearing about their favorite pizza toppings!"
---
For more information on this story, contact us.