A Tale of Two Jobs: Pharmacist Loves Working as Domino's General Manager
Published: Jan. 29, 2021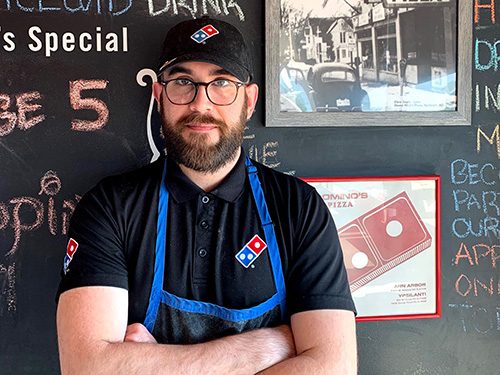 For Domino's team members across the world, the Domino's brand represents opportunity. Even during a global pandemic, Domino's corporate and franchise stores hired tens of thousands of people in the United States, many of whom had lost work due to COVID-19. Domino's also offers upward mobility — many current franchisees, like Kenny Looney, began their Domino's journey working in a store.
One exceptional example of the opportunity Domino's offers is Sam Jahanpour, a general manager of a Domino's store in Laurel, Maryland.
For Sam, his job at Domino's started out as a way to support himself while he was attending pharmacy school. He figured he would leave Domino's after he finished school; however, after graduating, he found that his salary as a pharmacist wasn't quite going to cover his expenses, which included significant student loans. Sam decided to continue working at Domino's, in addition to working as a pharmacist.
"My Domino's salary gives me a chance to live my life and be happy and independent," Sam said.
The flexibility of his job at Domino's allows him to balance it with his pharmacy work. Beyond allowing him to work in the field he studied, his job at Domino's has become fulfilling in and of itself.
"I had thought about leaving Domino's for good, but I suddenly realized I love my Domino's job more than my pharmacy job," Sam said. "Domino's is my family. I've met so many good friends and people here."
How does he balance two demanding jobs?
"My key to overcoming the challenges in my life is to be extremely organized," Sam said. "I observe the culture of work and problems to find the best solution. … I just want to say 'thank you' to entire Domino's team for teaching me to accept any challenge to be stronger!"
---
For more information on this story, contact us.