Perseverance Pays Off for California Franchise Owner
Published: March 18, 2019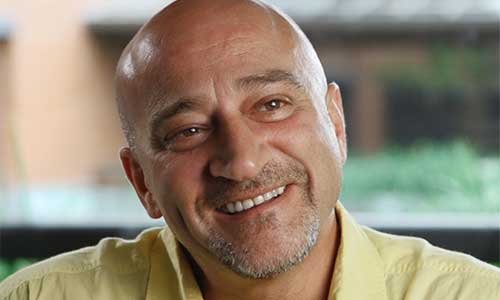 In 1986, Sam Hishmeh was a college student attending ITT Technical Institute, looking for a part-time job. He wanted something that was fun, flexible and the pay would be worth his while. With that in mind, he started working for Domino's in Reseda, California as a delivery driver. And that was just the beginning. He had no idea that his delivery job held the key to his future.
Sam fell in love with the Domino's brand. What started out as a temporary job became so much more to him. He delivered pizzas for one year and then was promoted into the ranks of management. It didn't take long for him to know that he wanted to own his own Domino's store one day. That day came in 1989 when he purchased Domino's in Santa Paula, California.
Sam hasn't slowed his roll one bit since purchasing his first store. He now owns 81 Domino's in Arizona and California.
It's amazing how fast Sam became a franchise owner. Even more notable is the fact that 90 percent of Domino's franchisees in the U.S. started as drivers or pizza makers.
He credits his success to hard work and vision. He hasn't forgotten those that helped him get to where he is today. His former boss, Jill Leaderer, and his two brothers, Walter and Husam, have been there to support him from day one. Over the years, the rest of his family joined the business and have all played a significant role in growing their organization to where it is today. While his accomplishments have been life-changing, Sam still lives by the saying that success is not measured by how far you go. It is measured by how many people you bring along with you. And Sam is doing just that. His plan for the future is to pass his business and legacy down to the next generation. He is training and grooming his children and other family members to be successful in both the Domino's business itself and in life.
"I'm so grateful for the career Domino's has presented me," said Sam. "From delivery driver to franchise owner, I have thoroughly enjoyed my journey with Domino's."
Over the years, his stores have supported numerous local nonprofit organizations including St. Jude Children's Research Hospital, local food banks, Chamber of Commerce, Make a Wish Foundation and the Boys and Girl's Club. He tries to be very timely, flexible and relevant in his community giving. Whenever there is something, such as a natural disaster or a cause that needs immediate attention, the Hishmeh group is ready to respond and help out wherever they can.
"Giving back to the community that has continually supported me throughout the years will always be a priority," said Sam.
---
For more information on this story, contact us.