Meet Richard Osita: Domino's Black Franchisee Opportunity Fund Recipient
In celebration of Black History Month, we're highlighting one of the many outstanding recipients of Domino's Black Franchisee Opportunity Fund.
Published: Feb. 23, 2023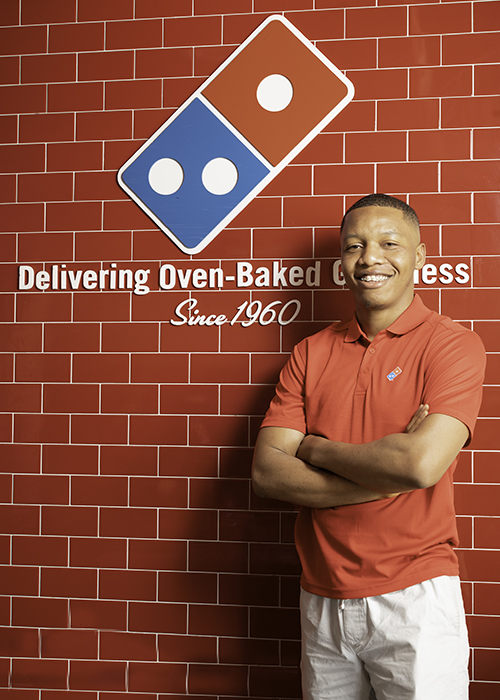 Domino's Black Franchisee Opportunity Fund is a key part of the brand's commitment to supporting Black team members on their journey to entrepreneurship. The goal of the fund is to help Black team members overcome what is often the biggest obstacle to franchising – the initial capital. Domino's created the fund in 2020 as a way to continue providing opportunity and making it more accessible. Recipients receive $50,000 in working capital towards the purchase or build of their first store, as well as assistance with expenses related to attending Domino's Franchise Management School, which every franchisee must complete. The fund also provides opportunities for mentorship from established franchisees throughout the franchising process.
Since the fund's inception, 12 individuals have received the grant. One of those recipients is Richard Osita. With the help of the Black Franchisee Opportunity Fund, Richard became a franchisee, opening his first store in Winter Park, Colorado, in 2022.
Richard moved from Nigeria to the United States in 2018 after he graduated from college with a degree in computer science. He was splitting his time between shifts at McDonald's and a Domino's store in Dillon, Colorado, which was owned by franchisee James Haydon. However, he eventually decided to work full-time at Domino's, as his managers shared their passion and love of the job with him, and it was contagious. In less than a year, Richard grew from a customer service representative to an assistant manager and then a general manager. In 2021, he was promoted to district manager of four stores across the Denver area.
"It was clear from day one that Richard had goals and determination far beyond anyone that I have worked with in this industry in the last 36 years," said Genelle Bunce, director of operations for James' franchise. "Richard has always embodied and demonstrated our company DNA: equip people, be consistent, value people, live/work intentionally, exceed expectations, grow daily, be a catalyst for transformation, lead by example, choose a positive attitude and have fun!"
Genelle added that Richard was personally responsible for recruiting, hiring, training and developing two teams of managers in the past few years.
"Despite hiring challenges, seasonal sales volume, a difficult delivery area, constant weather challenges and then the challenges that COVID presented him, Richard chose every day to rise above those challenges and adapt as a leader with a positive attitude," she said.
So why did Richard decide to make the jump from general manager to franchisee?
"I have always been interested in having my own business or establishment," he said. "I shared my thoughts with my superiors, and the support I received was one of many reasons I decided to stick with Domino's. I have never been with a brand that supports team members as much as Domino's does."
So what's next for Richard?
"I am not going to be slowing down," he said. "I have my foot on the throttle and I don't intend to brake. One store down and 29 more to go!"
---
For more information on this story, contact us.