Postponed Wedding? Domino's Has a Rain Check Registry for That
Published: June 30, 2020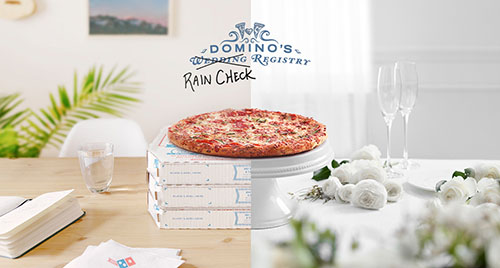 Wedding planning can be exhausting. Having to postpone and replan a wedding due to the circumstances around COVID-19 is even more stressful. To help spread some much-needed cheer, Domino's has launched its Rain Check Registry, where friends and family can send pizza to couples as a way to show their love and support.
Domino's Rain Check Registry packages can be found at dominosweddingregistry.com and they are filled with everything couples need to make it through the long days of creating change-the-date cards, negotiating with florists and rescheduling honeymoon plans. eGift card packages include "Let the Countdown Begin … Again!" and "Vendor Call-A-Thon" among other postponed wedding registry options.
"We created Domino's Wedding Registry because pizza-loving couples have shared over the years how Domino's pizza was a part of their big day," said Kate Trumbull, Domino's vice president of advertising. "With so many weddings being postponed or scaled back in 2020, we knew those couples might need some extra love from those around them, because everything is better with pizza."
As part of the Rain Check Registry launch, Domino's surprised a few lucky couples by buying out their entire registry. One couple included Brittany Koogler and Armando Lizasuain, from Hurlburt Field, Florida. They created a Domino's Wedding Registry for their wedding, which was supposed to take place in the summer of 2020, but due to the pandemic, they had to postpone it.
"This has been such a difficult time, and after finding out this morning that we may be changing our wedding date for the third time, we were really in need of a boost," said Koogler. "We can't thank Domino's enough! This has really blown our minds! Thank you, thank you, thank you!"
After each couple creates their registry, they can share it on social media or with a unique URL. All gifts will be delivered to the recipients as Domino's eGift cards. Don't have a registry? No problem! Friends and family can still send eGift cards through dominosweddingregistry.com.
---
For more information on this story, contact us.