Domino's® Pride: Teaming Up with Stand with Trans
Published: June 19, 2019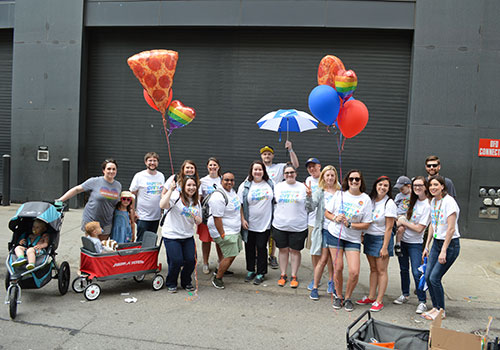 Domino's is dedicated to delivering a difference. For the third consecutive year, Domino's has joined forces with Stand with Trans at the Motor City Pride Festival – the largest Pride celebration in Michigan with more than 40,000 participants. On June 8 and 9, 2019, dozens of Domino's team members came together at Motor City Pride to celebrate the LGBTQ community, raise awareness and advocate for Stand with Trans.
Stand with Trans is a local nonprofit that offers support groups, resources, and other programming for transitioning youth and their families. Domino's team members invited festival attendees to their booth to enjoy a warm slice of pizza, spin a prize wheel for swag, as well as decorate a button to wear or share at Pride. Domino's also collected and matched donations for Stand with Trans, raising a grand total of $1,817 for the nonprofit organization.
"I was happy to volunteer with Domino's at Motor City Pride because I wanted to celebrate happiness, community and love," said Cody Masten of the Domino's safety and loss prevention team. "It's easy to join the efforts when you get to represent a great company and spend time with energized colleagues in a different setting. We learned new things about each other all while supporting great causes."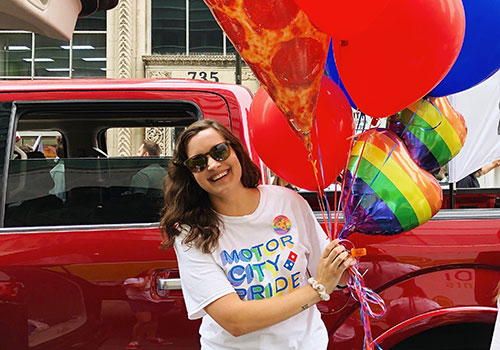 During Pride, a festival attendee excitedly recognized a friend's photo on the Stand with Trans promotional banners at the Domino's booth.
"It was rewarding to see how our work was directly impacting the people there celebrating with us," said Katie Szymanski, Domino's social media specialist.
As a Pride sponsor, Domino's team members, including CEO Ritch Allison, also walked in the Motor City Pride Parade with Stand with Trans families and volunteers. They celebrated attendees by handing out free gift cards and candy along the parade route.
"The energy level was electric, and you could feel and hear the enthusiasm from everyone watching the parade, as well as those in the parade," said Danielle Bulger, public relations program leader. "Celebrating Pride with other groups, companies and community members in Detroit was such an uplifting, positive experience."
To make a donation or learn more about Stand with Trans, visit standwithtrans.org.
---
For more information on this story, contact us.