Celebrating the LGBTQIA+ Community: Domino's® Supports Motor City Pride
Published: June 17, 2022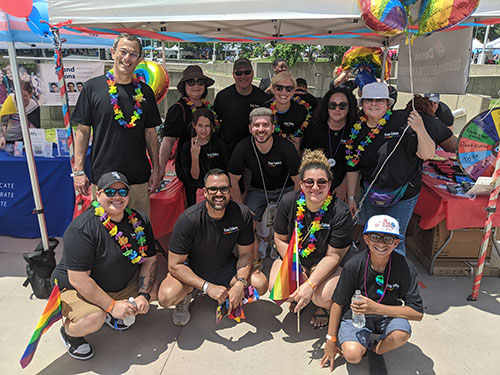 Domino's Pizza LLC and its franchisees believe in doing the right thing by creating a sense of belonging for everyone. In celebration of Pride Month, Domino's sponsored Motor City Pride in Detroit on June 11-12, 2022. The two-day celebration marked Domino's fifth time sponsoring the event by joining forces with Stand with Trans, a nonprofit organization dedicated to supporting transgender youth and their families.
More than 25 Domino's corporate team members and members of True Colors, Domino's LGBTQIA+ employee resource group, volunteered at the festival by hosting a booth with Stand with Trans, where they passed out more than 300 free slices of pizza to attendees. Domino's also collected donations for the nonprofit and matched them, raising more than $1,200 for Stand with Trans.
Cameron Thompson, an operations training specialist at Domino's, was one of the volunteers at the festival. Her favorite part of the event was talking to attendees and raising money for Stand with Trans.
"I'm a part of the community, and I love that people have a safe space to be themselves," she said.
Claire Wixted, an intern at Domino's, also volunteered at the event to show her support as a Pride partner.
"It's important for people to know that no matter how they identify or who they love that they're accepted, loved, and should feel comfortable being themselves!" she said.
Cozette Halonen, Domino's senior operations training specialist, noted that Pride is important to her because it provides an opportunity to celebrate and bring visibility to the diversity the LGBTQIA+ community offers.
"It's important to help everyone feel accepted and proud to love who they love … to give those the encouragement that they are not alone, but that they are surrounded by a large community that loves them for who they are – free from judgment," Cozette said. "Domino's strives to make everyone feel accepted and proud to be who they are."
---
For more information on Stand with Trans, visit standwithtrans.org.