Domino's Franchise Owner Recognized for Generosity; Receives Humanitarian Award
Published: Oct. 17, 2019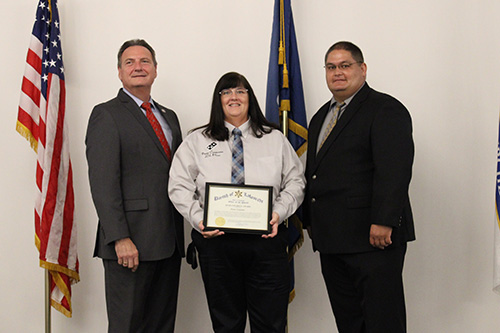 Be the change you wish you see in the world … so easily said, but not so easily done. For Penne Carpenter, this is the mantra she lives by. Penne owns Domino's stores in Cutoff and Raceland, Louisiana, and was recently presented the Humanitarian Award from the Lafourche Parish Sheriff's Office for her efforts as a tireless supporter of law enforcement. Penne's support of law enforcement precedes her days as a franchisee. She began helping police officers in 1987 when she worked as a Domino's general manager.
"I've always wanted to help support the men and women in the blue, in any way that I could," Penne said. "When I was finally in a position where I could do that, it meant giving back to the community the best way I know how – by feeding people."
Penne has supported law enforcement throughout the years by providing free pizzas and water for the Police Explorers, a career-oriented program that gives young adults the opportunity to explore careers in law enforcement, as well as the Police Reserves. Penne and her team have also fed officers during Night Out Against Crime, various checkpoints, extended searches, and other spontaneous crisis events.
Penne helps to feed other local organizations as well, including schools, athletic teams, Nicholls State University, the Leukemia & Lymphoma Society, fire departments, the NAACP, library summer programs, hospitals, the Blood Center of South Louisiana and the American Red Cross.
"You are quick to respond to requests for help, and your drivers sometimes show up wherever law enforcement may be and deliver several pizzas to make sure our ladies and gentlemen wearing the badge are taken care of," Craig Webre, sheriff of Lafourche Parish, said on Penne's Humanitarian Award certificate. "You go the extra mile not only here, but sometimes even outside Lafourche Parish."
Alongside her passion for giving back is Penne's love of pizza and the brand. It goes back to when she was five years old, and her family lived in an apartment above the first-ever Domino's store, which was located on Cross Street in Ypsilanti, Michigan. At that time, Tom Monaghan (the founder of Domino's) actually worked in that store. Penne would take her toy broom and sweep off the sidewalk to make the store look pristine. In return, Tom gave her free pizza.
When Penne was 13 years old, her family moved to Louisiana. She wanted to work at Domino's because of her close connection to the brand back home, so when a Domino's store finally opened in Louisiana, she was beyond excited.
She started her career with Domino's as a manager-in-training in Franklin, Louisiana in 1985. She worked her way up to general manager, franchise area supervisor, operating partner, regional operations director and regional vice president with RPM Pizza – the local franchisee. In 2017, she achieved her ultimate dream and purchased two Domino's stores.
"It doesn't take much to give back to the community that continues to support me," she said. "I love what I do, I love the Domino's brand and am happy I can continue to build relationships in the communities that we serve. Receiving the Humanitarian Award was such an honor. My team and I look forward to another great year of community outreach."
---
For more information on this story, contact us.