Domino's® and NFPA Partner with Pittsburg Fire Department to Promote Fire Safety
Published: Oct. 22, 2021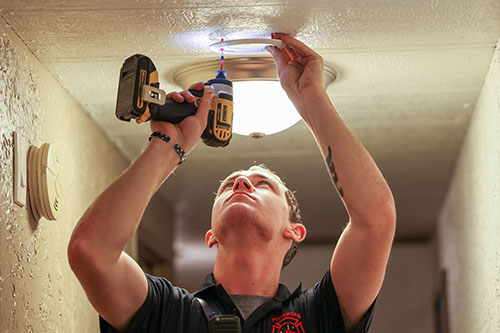 Did you know Fire Prevention Week was Oct. 3-9? To help raise awareness about fire safety, a number of Domino's stores across the country partnered with their local fire departments and the National Fire Protection Association (NFPA) on a lifesaving mission: to spread fire safety awareness. Domino's in Pittsburg, Kansas, located at 716 S. Broadway, was one of them. The store teamed up with the Pittsburg Fire Department to offer Domino's Fire Safety Program. On Oct. 6, a number of customers were randomly selected and surprised when their pizza arrived aboard a fire engine. If the smoke alarms in the home were working, their pizza was free. If the smoke alarms were not working, the firefighters replaced the batteries or installed new alarms.
Why did Domino's in Pittsburg join forces with its local fire department? The answer is easy, according to the store's franchise owner, Emily Elwell.
"Fire safety is extremely important," Emily said. "We were thrilled to partner with the NFPA and Pittsburg Fire Department for a program that not only promotes the safety of our friends and neighbors, but rewards those who make fire safety a priority."
Every year, the NFPA comes up with a different theme for Fire Prevention Week. This year's campaign theme was "Learn the Sounds of Fire Safety." As an added measure to increase fire safety awareness, Domino's in Pittsburg placed flyers with fire safety tips on their pizza boxes leading up to the program.
"In a fire, mere seconds can mean the difference between a safe escape and a tragedy," said Dennis Reilly, fire chief at Pittsburg Fire Department. "It's all about educating the community on the importance of fire safety. Escape planning and practice can help you make the most of the time you have, giving everyone enough time to get out. These steps can make all of the difference and we hoped we raised awareness about them through our partnership with Domino's."
---
For more information on this story, contact us.