Celebrating International Women's Day: Domino's in Christiansburg Donates 100% of Sales to Local Charities
Published: March 9, 2022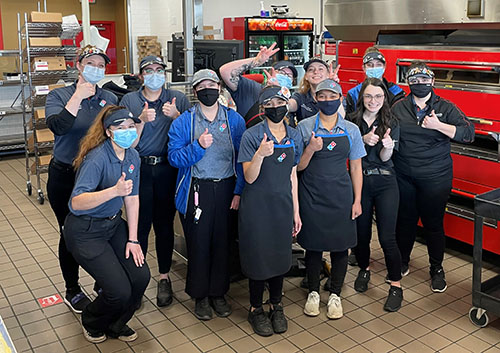 Being a female leader within the Domino's brand has always been something that Lindsay Shaw, vice president of New River Valley Pizza LLC – the franchise organization that owns Domino's in Christiansburg, Virginia, has been proud of. To her, it's on honor to lead and encourage team members every day.
"One of my favorite things about our team is how diverse we are, and how we're able to come together each day and give those that are looking for a greater purpose and somewhere they belong – a place they can call home and a 'pizza family' to celebrate them!" Lindsay said.
New River Valley Pizza LLC owns 17 Domino's stores throughout Virginia – nine of which are female led. As an organization that has a strong female presence, March 8 was not just another day. Their Domino's store in Christiansburg, located at 1655 Roanoke St., celebrated International Women's Day by donating 100% of its sales to two local nonprofits: Women's Resource Center of the New River Valley and Lishy's Gift in Roanoke. Domino's in Christiansburg was also 100% staffed by female team members on March 8.
"We wanted to do something meaningful in honor of International Women's Day, as it's a day that is very near and dear to our hearts," said Kevin Shaw, franchise owner of Domino's in Christiansburg.
Women's Resource Center of the New River Valley provides programs and services to victims of sexual and domestic violence. The female-run center has been helping those in need since 1977. Lishy's Gift is also a female-led nonprofit that aims to increase the quality of life for young adult cancer patients in the Roanoke area.
"Celebrating International Women's Day with a team of women who inspire each other to reach for greater heights in their careers and personal lives takes a small piece of what I love about our franchise organization and shares it with our community," said Lindsay. "We have the privilege of doing what we love, surrounded by a group of strong female leaders, and we look forward to giving back to local women who may not have that same privilege."
On March 8, Domino's also hosted Ally Shaw, co-franchise owner of Domino's in Christiansburg and author of Chasing Tigers in the Dark: Life Lessons of a Fierce Survivor. Ally's book is a revealing memoir about overcoming cancer, abuse, hardship and trauma. A portion of each book sale went to Women's Resource Center of the New River Valley and Lishy's Gift as well.
---
For more information on this story, contact us.