Domino's Team Member Combats Kidney Disease with Positivity
Published: April 17, 2019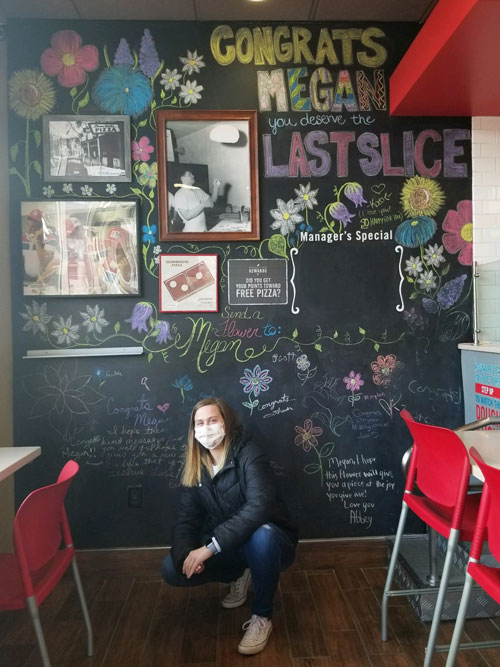 Megan Houstin knew she wanted to work at Domino's in Goshen, Ohio, since she was 12 years old. Every time she picked up her Domino's order, she would tell the store manager, "On my 16th birthday, I'm going to come in, fill out an application and you're going to hire me." Megan remained true to her word. She was hired on the spot as a customer service representative in March of 2015, on her 16th birthday.
Shortly after starting at Domino's, Megan went to the doctor for a routine checkup, but there wasn't anything routine about it. After running some bloodwork, they discovered her kidneys weren't working as well as they should for a teenager. Megan was diagnosed with kidney disease, but she didn't let that diagnosis change anything. She continued going to high school and working at Domino's.
Megan's kidney function deteriorated over the next few years and by 2017, they failed. Megan was forced to start dialysis.
"It was hard, as an 18-year-old, to have to go home or to a center to receive dialysis," Megan said. "I was still a teen but going through this very adult situation. I often had to cut time short for things so I could go and get treatment."
Although kidney failure slows down many people, it did not decelerate Megan. She continued working 20-plus hours a week at Domino's, went to vocational school to earn patient care assistant and state-tested nursing assistant certifications, and participated in show choir. Once she graduated from high school, Megan started working more, but was off three days a week for dialysis. At the end of 2018, as if her schedule wasn't busy enough, she decided to pick up another job. She began working at Cincinnati Children's Hospital Medical Center as a patient transporter to get her foot in the door, as she hopes to become a nurse someday.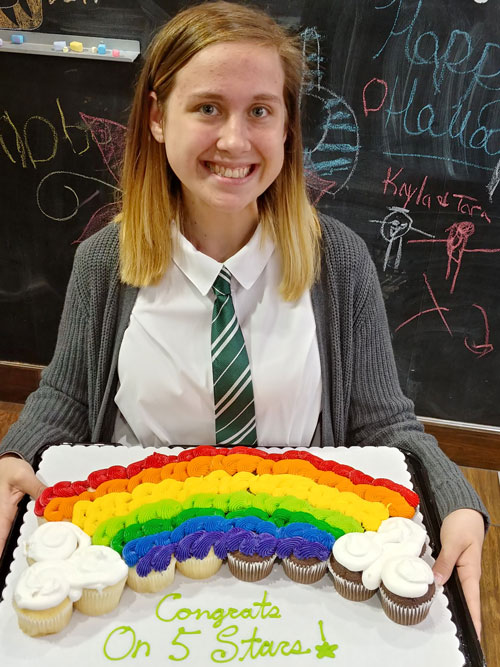 "I didn't see slowing down as an option," Megan said. "I just kept myself busy, lived one day at a time, and went with the flow."
Megan credits her fiancé, family, friends and work family for keeping her spirits up while going through treatment.
"I love my job and I love Domino's," she said. "Without Jennifer (my supervisor), my franchisee Lou Metro and the rest of the Goshen Domino's team, I don't think I could've continued operating the way I did."
The feeling is mutual, as Megan has remained a five-star team member since her first day at Domino's.
"She has been a huge asset to our Domino's family," said Jennifer Strunk, Domino's store supervisor in Goshen. "She's such a strong, sweet person who has remained dedicated and hard-working, even through all of her struggles."
On Jan. 17, 2019, Megan received the long-awaited call she had hoped for. Doctors had a kidney for her. She successfully underwent a transplant and after a few months of recovery, returned to work.
"My advice to those who are facing a challenge is to keep a smile on your face and look at all of the positive things in life," Megan said. "It could always be worse."
---
For more information on this story, contact us.