Domino's® Recognizes Delivery Expert of the Year
Published: Dec. 12, 2021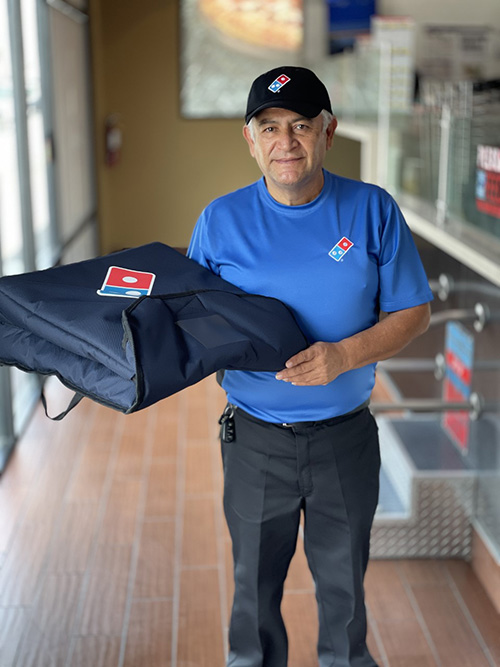 Luis Godinez's customers in Canoga Park, California, know him for always safely delivering pizzas with a smile on his face and for providing great customer service. In recognition of Luis' outstanding work, Domino's recently named him as the brand's National Delivery Expert of the Year.
"I am so grateful to have a team member like Luis making deliveries to our customers," said Dan Hosseini, who owns Domino's in Canoga Park. "The customers love him and I know he takes pride in what he does. He is so deserving of this award, and it only shows that his hard work and dedication are recognized."
Luis started working at Domino's in Canoga Park in 1995. He fell in love with the job and remains passionate about it, even after 26 years.
"Being recognized as the National Delivery Expert of the Year is such an honor for me, as I work hard to serve our customers," he said. "I love my job and I'm thankful for my coworkers and the opportunities presented to me as a delivery expert at Domino's. I'm looking forward to continuing to represent Domino's the best way I know how."
Domino's National Delivery Expert of the Year Award recognizes drivers' efforts to safely deliver great-tasting pizza with great service.
"Domino's is known for being the world leader in pizza delivery, and we can't maintain that success without the dedication of fantastic delivery experts like Luis," said Fred Lund, Domino's senior vice president of global development and sustainability. "At Domino's, we strive to keep the speed in the store, not on the roads."
---
If you're interested in joining the Domino's team, visit jobs.dominos.com.