A Domino's Love Story: I Love You With Every Pizza My Heart
Published: Feb. 4, 2021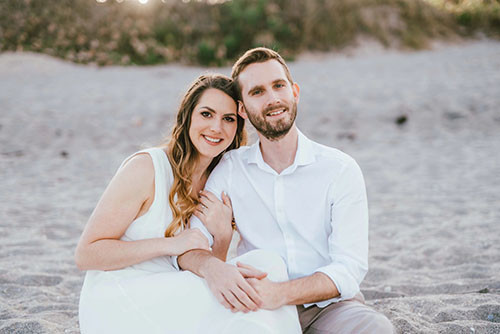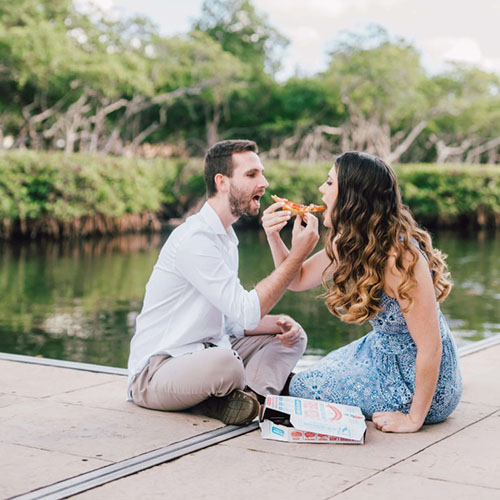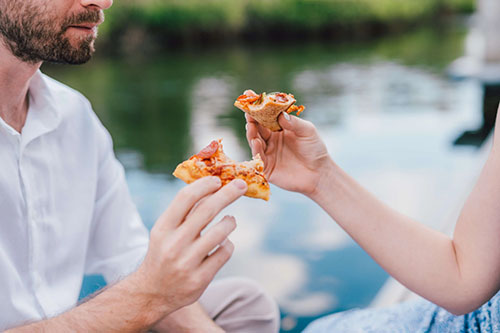 It's almost Valentine's Day! Time to think about love, happiness and pizza! After all, what makes people happier than pizza? Just ask Monica Metzger and Mike Kopensky. It was Domino's that actually brought them together, allowed them to fall in love and ultimately get engaged.
Monica and Mike met at the Avalon Park Domino's in Orlando, Florida in 2013. Both were working part-time while attending college at the University of Central Florida. Monica was working as a customer service representative and Mike was working as a part-time delivery driver, until he was promoted to a full-time assistant manager. They started to spend a lot of time together while working at Domino's – first becoming great friends. A year later, Monica and Mike began dating.
The couple worked at Domino's for about two and a half years before they moved on in their careers, but their love for pizza and each other did not stop there. In fact, Mike proposed to Monica during a quarantine staycation on the beach on Sanibel Island in 2020.
"We even celebrated with Domino's pizza and champagne on the night we got engaged," said Monica. "It seems silly, but I always think of pizza as the foundation of our relationship. I mean, we would not know each other without working at Domino's."
They recently had engagement photos taken on a beach in Florida. It was no surprise that pizza made it into their perfect engagement photos. Nothing looks better with white sand and the ocean than a beautiful couple with Domino's pizza.
"It was my idea to have pizza in the photo shoot," said Monica. "It is a staple piece in our relationship. Pizza brought us together, brings our friends together and is part of our lives. Some of the people we worked with at Domino's are even going to be in our bridal party!"
So, you're probably wondering what pizza was perfect enough to make it in an engagement photo shoot? We asked Mike, since we are pretty sure he is an expert.
"I chose a Hand Tossed pizza with pepperoni, green peppers and onions," said Mike. "It's perfect for photos."
The couple's wedding is set for November 13, 2021. And of course, as any pizza-loving couple would, they'd like to have pizza as a late-night snack.
Here's a toast to Mike and Monica: to a life full of love, happiness and laughter. May pizza be the only love triangle you ever encounter. To Domino's pizza and your happily ever after!
---
For more information on this story, contact us.