Lou Ann Dellinger: Domino's U.S. Manager of the Year
Published: Jan. 6, 2022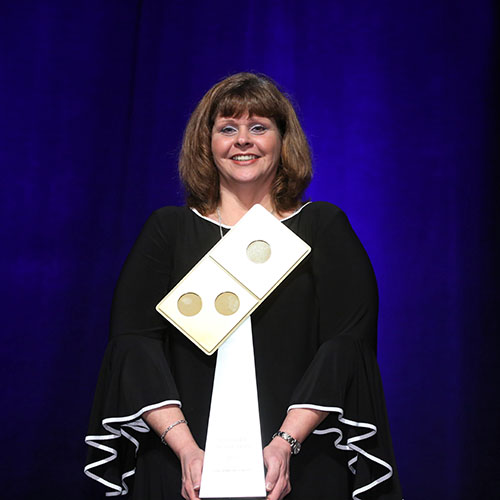 Lou Ann Dellinger knows a thing or two about hard work and dedication when it comes to managing a Domino's store. The Lincolnton, North Carolina, native was recently named U.S. Manager of the Year at Domino's 2021 Global Awards ceremony, marking the third time she has received the award.
Lou Ann's story with Domino's began in 1988 when she started working as a customer service representative at her local store. She fell in love with the brand, the work and now manages the store located at 101 Stanford Road in Lincolnton. This is her 33rd year with the brand, and her passion for Domino's hasn't diminished one bit.
"I am incredibly honored and excited to receive this award," she said. "I tell everyone to set goals, try your best and that hard work does pay off. Also, follow the golden rule and treat others the way that you would like to be treated. That is how I live my life."
Domino's U.S. Manager of the Year award recognizes exceptional store managers who live the company's mission and guiding principles. Lou Ann was selected from nearly 6,000 store managers across the U.S. and she is the only manager in Domino's history to have earned this award three times.
"Lou Ann is an unbelievable store operator and partner who has proven time and again an outstanding commitment to making her customers happy," said Mack Patterson, who owns Domino's in Lincolnton. "We are fortunate to have such a positive leader who places so much value in her customers and team members. This is a great testimony to Lou Ann, her team and strong work ethic. I can't congratulate her enough."
Lou Ann said that being recognized as the U.S. Manager of the Year is an honor for her and her team members.
"We work hard to provide great service to our customers and are looking forward to dedicating ourselves to running the best restaurant possible," she said. "I'm here to do whatever it takes to make the brand, my employees, the franchise and myself successful. I will continue to do it the best I can this year and every year after that."
2021 Manager of the Year Video
---
If you're interested in joining the Domino's team, visit jobs.dominos.com.