Lolly Jones: In the Business of Making Pizza and Having Fun
Published: Feb. 25, 2022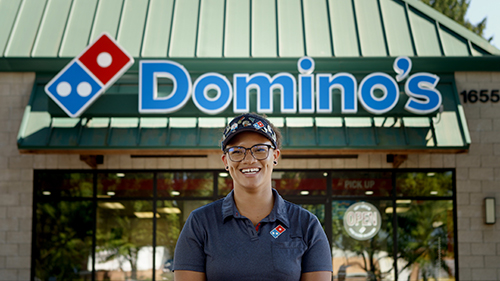 You may recognize Alaura "Lolly" Jones from being on television. She is featured in one of Domino's current TV commercials as one of 95% of Domino's franchise owners who started as delivery drivers or pizza makers. Her story is similar to others, much like the American dream – where hard work and good business ethics pay off in the long run. Lolly is talented, hardworking and the owner of two Domino's stores – all at the age of 27.
Lolly's journey with Domino's began in 2011, when she was just 17 years old. She started working for Domino's franchise owner Jeff Farmer at his Shelton, Washington, store as a pizza maker and customer service representative. Lolly had a friend who worked at Domino's who really liked it – so she thought she would give it a try too. It may have been one of the best decisions she ever made.
Lolly loved the fast-paced work environment and culture at Domino's. She knew there was opportunity for growth and wanted to climb the ladder. Just two and a half years after she started as a pizza maker, Lolly was promoted to general manager. It was at that time she knew she wanted to franchise.
"Everyone in the company helped me to succeed," she said. "The Farmer family presented the franchise opportunity to me and gave me the chance to move up within their organization."
Lolly knew that success and the opportunity to own a franchise comes with hard work, commitment and determination – and that was something she was ready to take head on.
"From the time I started working at Domino's to the time I became a franchise owner was seven years," Lolly said.
She purchased her first Domino's store in Sherwood, Oregon, in 2019 at the age of 25. But she did not stop there. She purchased a second store in 2021 in Lake Oswego, Oregon, at the age of 27.
"Jeff and the Farmer family taught me to operate my business with honesty and integrity," she said. "That is the only way to run a business. I had great role models who wanted me to succeed and grow."
Jeff knew Lolly would make a great business owner.
"Lolly continues to deliver an unprecedented work ethic, great customer service and an upbeat attitude each and every day," said Jeff. "We knew from the beginning she had what it took to become a franchise owner. She works hard and has been a great addition to the Domino's brand. I am beyond proud of that girl"
Lolly is active in the communities where her stores are located. She is a member of the Chamber of Commerce and is currently involved in school lunch programs. She also participates in school fundraisers as much as she can.
"I try and participate in anything where kids are," she said. "Kids equal fun. They see the excitement in pizza, and it is an opportunity for me to give back to the community where I can."
In high school, Lolly participated in sports, so she feels a connection with local athletic programs.
"I love knowing I can raise funds for sports programs or any after-school program, as those activities develop kids for their future," she said.
Lolly currently lives in Portland with her partner, Jonno, and his two children, Aedan and Arianna.
"This brand has given me ultimate possibilities," said Lolly. "It is not just a job, it is a privilege, and I intend to find a way to pay it forward."
---
If you're interested in joining a fun and fast-paced environment, visit jobs.dominos.com.