New Orleans Domino's Stores Donate 500 Pizzas to Kingsley House Community
Published: May 29, 2020
Domino's corporate stores and franchisees across the country are doing what they can to help during the COVID-19 crisis. This story is part of a series where we highlight local Domino's owners and team members who are giving back to their communities.
Two Domino's franchise-owned stores in New Orleans donated 500 pizzas to the Kingsley House community on Tuesday, May 5. Local store team members and Kingsley House employees passed out pepperoni pizzas to kids and their parents, members of the community, and caregivers of seniors.
Kingsley House envisions a city and region where all young children are ready to learn, and all citizens are healthy and economically stable. The organization educates children, strengthens families and builds a sense of community. It also provides senior day care, educational support, counseling services and social services.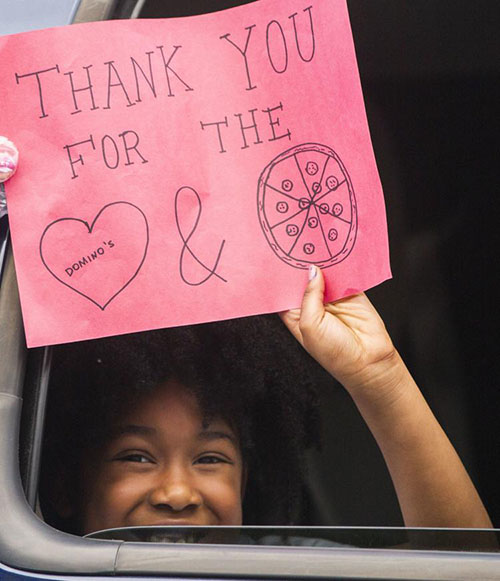 Stephanie Mueller, community impact director for RPM Pizza – the 176-store franchise that owns the participating stores – worked with Kingsley House in the past through some of their youth programs. Stephanie reached out to her contacts at Kingsley House to see if there were any opportunities to feed a group – and that's how the grab-and-go pizza event came together. Kingsley House promoted the event to their community and invited families, seniors, veterans, and immunocompromised neighbors to come get a hot meal.
"The people who came through for pizza were grateful," Stephanie said. "Many were even holding up 'thank you' signs in their cars! Being able to not only provide a meal, but also bring some fun and joy during these challenging times – that is what Domino's Feed the Need initiative is all about."
The giving didn't stop with the grab-and-go event. During the week of May 12, RPM Pizza fed 100 teachers involved in Kingsley House's programs. The franchise organization has donated a total of 35,000 pizzas to medical staff, first responders, school lunch programs, teachers, grocery stores, food banks, postal workers and more, as part of Domino's Feed the Need program.
Special thanks to Sophia Germer and The New Orleans Advocate for allowing Domino's to use their photos. To see more, visit https://www.nola.com/multimedia/photos/collection_02ff05b4-8f00-11ea-b6a9-4bcf6502925f.html#18.
---
For more information on this story, contact us.