Get to Know Joseph Hsu
For Asian American and Pacific Islander Month, we sat down with Joseph Hsu, Domino's international regional vice president, to ask about his roots, the brand's rapidly growing business in Asia, and his passion for inclusion and diversity.
Published: May 23, 2022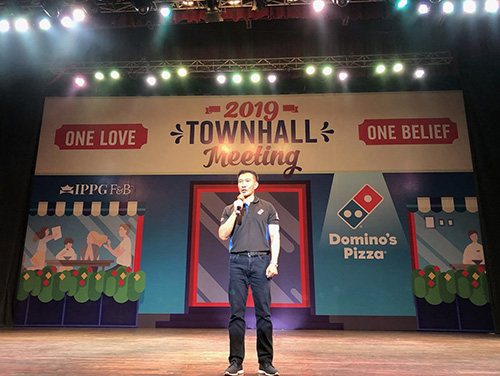 Q: Where are you originally from and where do you live now?
I was born in Taiwan where I spent my formative years: grades K-12, university for my undergraduate degree and two years mandatory military service. Then I moved to New York City to earn my Master of Business Administration from Columbia.
I currently live in Hong Kong where I've been based for the past three years. My favorite part of living in Hong Kong is the diversity that comes from a city with a large local and expat population. The proverbial mix of East meets West results in a mix of cultures here that you don't find in many cities.
Q: What does your job entail as the international regional vice president for Asia, Middle East and Africa?
My main objectives are centered around expanding the Domino's brand in some of the world's fastest growing markets. Although COVID has presented several unique challenges, we continue to accelerate the growth in our region. If we continue the planned pace of growth just within the China and India markets, we will double the size of our region in three years' time!
Q: You're really involved with Domino's inclusion and diversity team – why is that so important to you?
My hope is that our collective efforts will bring a broader awareness to issues that are frequently confronted by minorities, and therefore make Domino's an even better workplace where everyone can realize their full potential. Our natural default is typically to bond with people who are most like ourselves. But real growth comes when we can learn how to build bridges with people who have different identities from our own, especially in an increasingly globalized company like Domino's.
---
For more information on this story, contact us.