North Texas Supply Chain Center Team Works Together to Make a Special Delivery
Published: July 19, 2021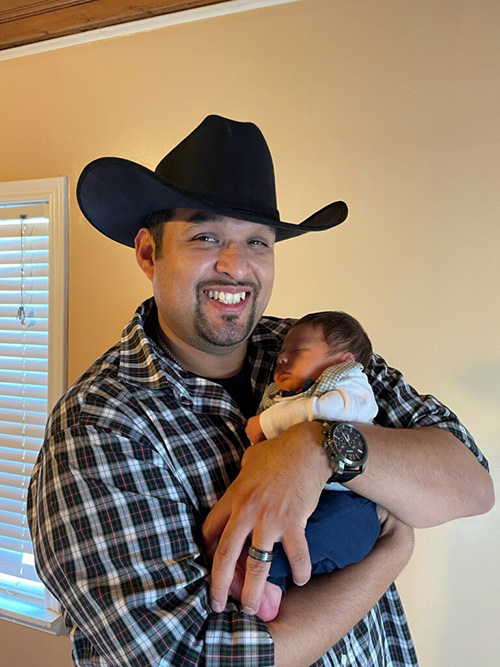 Domino's Supply Chain Delivery Driver Jose Salazar is used to hauling his semitruck across Texas and Arkansas to deliver dough, sauce and toppings to Domino's stores, but he never thought it'd be the vehicle that delivered him to the hospital in time to see his wife give birth.
Jose was three hours in to his 19-hour "Texarkana" route and was about to pull up to his first store when his wife called to let him know she was in labor.
"I was kind of freaking out, but we've already had four kids and it takes longer than you think," said Jose.
But then she called again.
Jose contacted his team lead, Daniel Martinez, who immediately began calculating who could relieve Jose and his partner, and more importantly, how quickly.
In the meantime, Jose trucked on.
"I delivered to three stores, on time, in about an hour and a half," he said.
By that time, two other delivery drivers started making their way toward Dallas, where Jose met up with them to swap rigs. At that point, Jose was closer to the hospital than the commissary.
"It felt so long driving … I was wondering the whole time if I was going to make it," said Jose. However, thanks to the quick action of the North Texas Domino's Supply Chain Center team, he made it. Jose parked the Domino's delivery semitruck outside the hospital and an hour later, Mauricio Theodore Salazar was born.
"I made it there in time, but only because he (Mauricio) was being stubborn," Jose said. "Thank you, God."
Brandon Newton, Domino's North Texas Supply Chain Center director, noted that this type of event doesn't happen every day.
"This was the perfect example of teamwork," Brandon said. "It was not easy to coordinate, but they did a great job by getting back to Jose so quickly and coordinating a relief team so he could be there for the birth of his son. I'm so proud of the Domino's crew for taking care of him!"
---
To learn more about Domino's Supply Chain Center and its jobs, visit jobs.dominos.com.