One Sailor's Story: Joe VanOosterhout
What Veterans Day Means to Him
Published: Nov. 5, 2020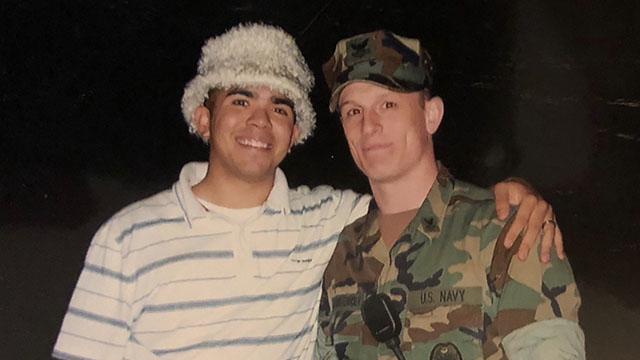 Joe VanOosterhout wanted to be a part of something bigger than himself, so when he was 23 years old, he decided to join the U.S. Navy.
"I love the United States and the flag we fly under, and wanted to do something to defend it," VanOosterhout said. "This was the post-9/11 era, and there was certainly the motivation of that day to take the fight to our enemies' backyard and not our own."
While VanOosterhout wanted to join the military to better himself and learn valuable skills, serving was also something that ran through his blood. His grandfather, father and younger brother all served in the U.S. Navy as well.
After going through boot camp and then "A" School, which is where sailors receive technical training in their field, VanOosterhout was given orders to a top-secret underground facility in Sugar Grove, West Virginia. He spent two years there, during which he served as a Transworld Digital Operator, security force team member and command fitness leader.
VanOosterhout was then transferred to Manama, Bahrain, to serve at the U.S. Navy's Fifth Fleet headquarters. For two years, he served as a Geospatial Metadata Analyst and command fitness leader, conducting counter-piracy, narcotics and terrorism missions, before separating with an honorable discharge.
VanOosterhout left the Navy after a difficult decision to not re-enlist, as he wanted to enter the civilian world again. From there, he became a government contractor for a three-letter agency in the Maryland/Washington D.C. area. He worked as a product owner for the agency, and helped design and develop software to allow the warfighter to conduct their missions more effectively.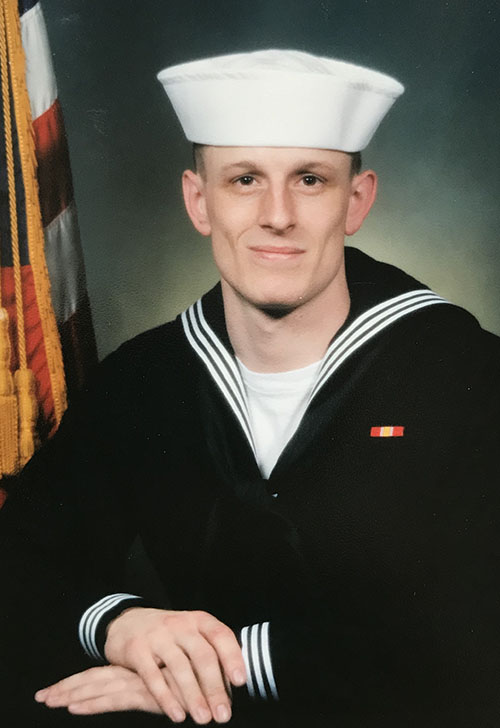 Although VanOosterhout loved serving in the military, when he left, he was able to start the family he always wanted. He met his wife, Susan, while serving in the Navy, and together they have two children, Nick and Brendan.
"After five years of contract work, my wife and I decided to go back to our roots in Michigan and I began looking for work in the commercial sector," he said. "I took a contractor role with a software development company in Michigan, which eventually led me to Domino's. I wouldn't change my path if given the opportunity; Domino's is family. I have many to thank for my career here, but they know who they are."
VanOosterhout now works as a manager of technical delivery at Domino's, where he said he has had the privilege of working with the smartest and hardest working team he's ever been a part of. VanOosterhout is responsible for the Flex platform/screen technology, intelligent call management program and Domino's map usage across its platforms. To this day, he still utilizes what he learned in the military.
"I learned to lead by example, that is, work with your teams to complete the mission," he said. "Own the work no matter what; if your team is given a job, everyone is responsible for completing it to the best of their ability. Train those behind you to do your job so you have fewer single points of failure, and be a servant leader and work for your teammates."
As Veterans Day nears, VanOosterhout reflects on what the day means to him.
"Veterans Day is a chance to remember those who have served our country since it was formed in 1776," he said. "It's a chance to reach out to those I know and thank them for their service and sacrifice. It's a reminder to me that we walk free because of those who served their country in uniform from the Civil War, World War I, the beaches of Normandy in World War II, the Korean War, the jungles of Vietnam and the deserts in the Middle East – just to name a few. It's a reminder our country is made up of a diverse population of amazing people from all walks of life who are able to band together and do amazing things when asked to do it. I played a very small role, and many have and will do much, much more than I ever did."
VanOosterhout hopes that others honor veterans by living and exercising the freedoms that veterans have defended – voting, freedom of speech, freedom of religion and countless more – while respecting fellow Americans' beliefs.
"When you look at the American flag, that is what all veterans have defended," VanOosterhout said. "When it's flown and the national anthem plays, stand for it because it's all of our flag, and many have served to defend it."
---
For more information on this story, contact us.