Giving Back in Times of Need: LaPorte, Indiana
Published: March 31, 2020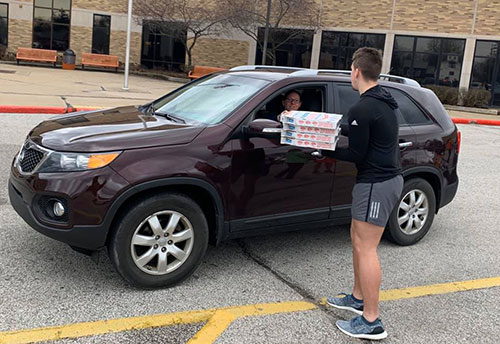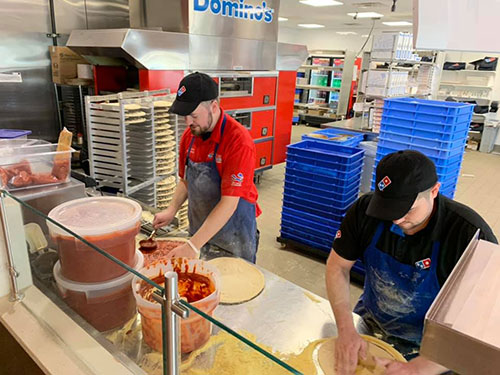 Domino's franchisees across the country are doing what they can to help during the COVID-19 crisis. This story is part of a series where we highlight local Domino's owners and team members who are giving back to their communities.
Giving back is important to Domino's franchisee Jim Gronemann, especially in times like these.
Jim owns the Domino's store in LaPorte, Indiana – a city of about 21,000 people, located in between Gary and South Bend. When the pandemic hit, Jim decided to do what he could to help his local community. He had his LaPorte Domino's team members make about 200 pizzas, and he donated them to the LaPorte Community School Corporation to hand out to families in need of a free, hot meal on Saturday, March 21.
"We wanted to give back to the community and give back to those in need," said Jim. "A lot of the grocery stores are out of food. People are having a hard time right now – they're not working, so donating pizzas was the least we could do to give back to the people of LaPorte."
Jim said he started seeing news coverage of how the COVID-19 pandemic was causing local businesses to close and then, on top of that, schools were closing which caused childcare and food supply issues.
"I was hearing stories about people not having money to eat and worried about paying their bills, so that is when I started thinking about what Domino's in LaPorte could do to help," he said. "I have been around long enough to know many others have done this before during a tragic time and so I got in contact with the school district."
"We're so thankful to have Jim Gronemann from Domino's get in touch last week," said Mark Francesconi, LaPorte Community Schools superintendent. "We knew that we were doing food service through the week for our students, during Monday through Friday for lunch. We saw a gap for the weekend and out of the blue, Jim contacted us and we were actually looking for next weekend to do this, and he was able to do it this weekend already. With 200 pizzas, he never flinched at all."
After seeing how many families came by the school for a free pizza, Jim decided to continue giving back. He donated 250 more pizzas on March 28, and plans to continue doing so every Saturday until things return to normal.
"I am just so grateful that the residents of LaPorte have supported us in the past and I want them all to know we are here to help and to make sure they are getting fed," Jim said.
---
For more information on this story, contact us.