Domino's and March of Dimes Thank H-E-B
Published: April 10, 2020
Domino's corporate stores and franchisees across the country are doing what they can to help during the COVID-19 crisis. This story is part of a series where we highlight local Domino's owners and team members who are giving back to their communities.
H-E-B is a longtime supporter of March of Dimes. As the No. 1 donor in Texas, H-E-B has raised more than $700,000 for March of Dimes, which works to improve the health of mothers and babies.
March of Dimes was inspired by H-E-B's commitment to their employees and their fundraising efforts, so they wanted to find a way to recognize 40 of the grocery store locations in the Houston area. After giving it some thought, the idea of providing a pizza lunch to the employees was born.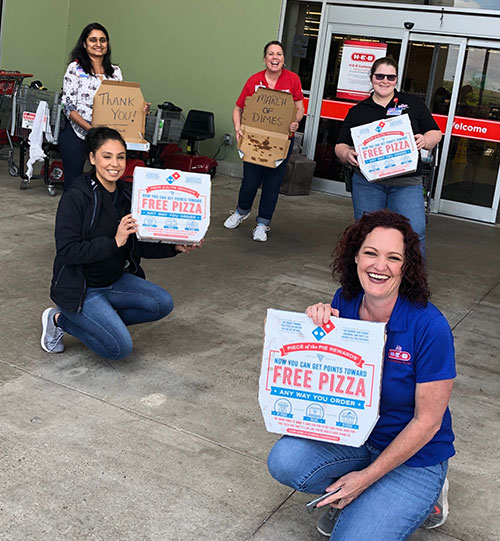 Toni Walton, director of corporate engagement for March of Dimes in Houston, reached out to Domino's to place orders for pizza deliveries to the staff.
"I started with my local Domino's. The customer service representative was very nice and, after explaining to her what we were trying to do, she took it upon herself to call the general manager and secure a donation for 10 pizzas for the local H-E-B," said Walton. "The team reached back out to share that other stores wanted to donate to the rest of the H-E-B locations, and some stores had already began making their deliveries."
The teams at H-E-B were beyond appreciative of the pizza surprise that March of Dimes and Domino's set up.
"Like us, we know the team at H-E-B is working hard to help get food on people's tables in a clean and safe environment – all while supporting families in need," said Marvin Villanueva, Domino's director of corporate operations in Houston. "We thank March of Dimes for providing an opportunity to thank our diligent grocery workers."
---
For more information on this story, contact us.