Celebrating Hispanic Heritage Month
Published: Oct. 1, 2019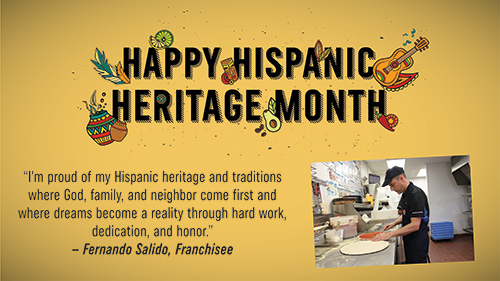 Domino's recognizes and celebrates the diverse heritage of all its team members. In honor of National Hispanic Heritage Month, we asked employees, "What does Hispanic Heritage Month mean to you?"
---
"This is a month we celebrate our culture and recognize the generations before us that have positively influenced and enriched our nation and society today – who we are and what we have become and will continue to be will live on for generations.
Being a Latina has shown me how to grow as a person, wife and a friend, but most importantly, a mother. This was instilled in me at a young age even though I didn't understand it until I was older and became that person. This is what has been shown to our children so that they can show their children the greatness of being Hispanic, and no matter what they do or what may come their way, they will conquer anything they put their minds and hearts to.
Hispanic Heritage Month means equality no matter how we look or speak with an accent or not, at the end of the day we are one. We are a hard-working community just like everyone else and we all strive for the American dream. No matter the background, where we come from or whether we have a degree behind us, at the end of our day we can say we did our job and did it well.
I embrace all who were before me and opened that path for me as a Hispanic woman. It's nice that we get recognized for all things, even if it's only for a month, but in our hearts, it goes a long way and memories last a lifetime.
I can say I am proud to be part of Domino's Pizza. I get to interact with others from different Hispanic cultures and we all bring the diversity from our language, food, beliefs and morals. Domino's is a company that values every culture, every walk of life and there is no judgment. We all can relate to something different, but at the end of the day, we are hard workers and get our job done. We can go home being proud of what we were able to accomplish." – Maria Gomez, Northern California Supply Chain Center accounting and customer service representative
---
"I love working for Domino's because la pizza está muy deliciosa." – Faber Calvo, Miami Team USA recruiter
---
"In my family and culture, we were always taught to work hard and put family first. I am proud to work and be part of Domino's family." – Eric Garcia, Kentucky Supply Chain Center maintenance technician
---
"Just because you live in this country does not mean you have to give up your native culture as well, and this month is a time to be proud of your roots. We are allowed to be proud of who we are and shout that to the world." – Augusto Garcia, franchisee
---
"The culture that I'm from will be passed on to my children, so that they never forget the struggles that my parents went through to provide for me and my siblings – the hardships of living in a one-bedroom apartment with two other families just to pay the rent. I'm proud of where my family roots come from. The Latino way always keep moving forward to improve the family foothold in the place we call home – America." – Eliud Serrato, Northern California Supply Chain Center maintenance technician
---
Did You Know?
85% of the U.S. Hispanic population lives in a Domino's delivery area
Domino's is the Spanish-language TV share-of-voice leader amongst quick-service restaurant pizza brands
More than 20% of Domino's U.S. stores are in Hispanic markets

These stores make up 25% of Domino's sales

Domino's offers the following dedicated Spanish-language ordering options:

Online ordering at Español.Dominos.com
iOS and Android app ordering (based on the customer's phone language setting)

Domino's is the No. 1 pizza brand with U.S. Hispanic consumers

Domino's is also the No. 1 pizza brand in the following Hispanic markets: Los Angeles, New York City, Miami, Dallas-Fort Worth, Houston, Chicago, Washington, D.C., Philadelphia, San Diego and San Antonio
---
For more information on this story, contact us.