Hispanic Domino's Team Members Share Challenges on the Road to Success
Published: Oct. 7, 2021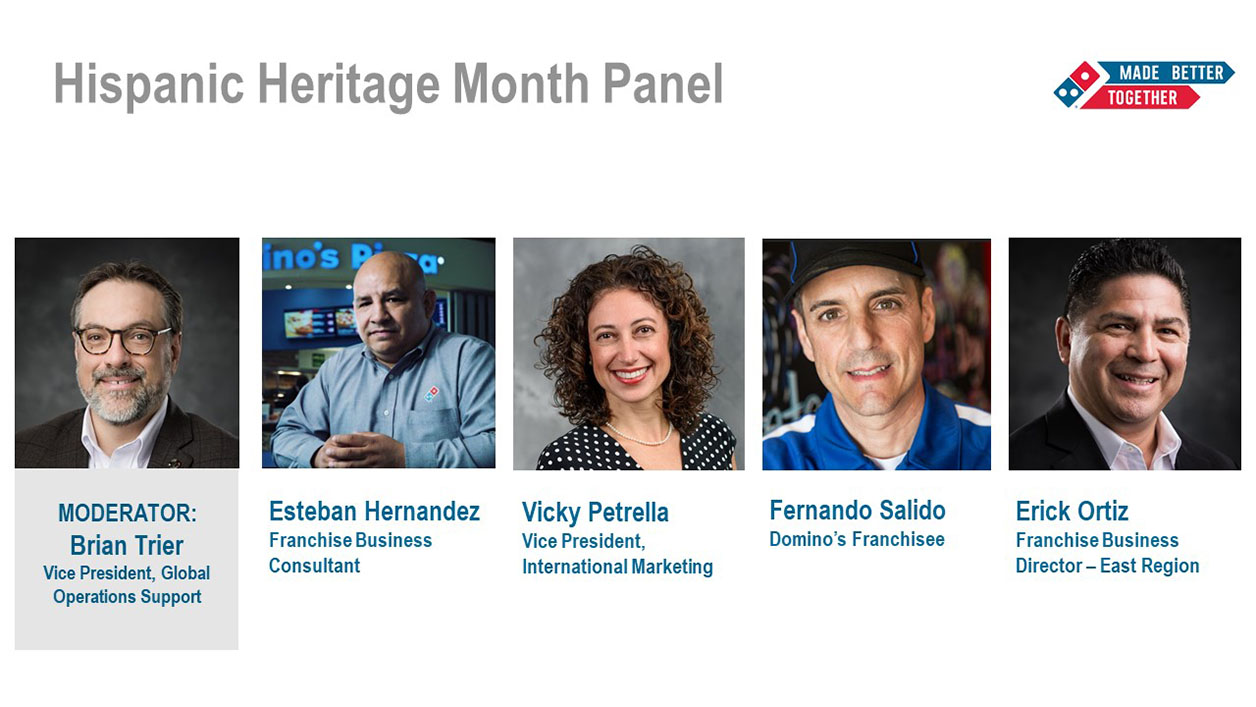 In honor of Hispanic Heritage Month, Domino's held a fireside chat with a number of team members from the Latino community. These are their stories, experiences and advice for fellow Latinos.
Fitting into a new culture can be stressful, and it comes with a different set of challenges for each person. For Victoria Petrella, Domino's vice president of international marketing, it wasn't easy. She came to the U.S. to attend grad school in 1995 from Argentina, where she was born and raised.
"It was hard. You're alone," she said. "There are no friends, no family. You try to make sure that that's going to pass in a few days or months. That reality doesn't change though. I had to remember some of the advice I got from family and friends who went through this. They said, 'You need to find people that will be your family there. They'll be the people who will pull you up when you fall and don't know what to do.'"
Even though Victoria has lived and worked in the U.S. for more than 25 years now, she says acclimating to a different culture is still a learning process. It's an ongoing journey during which she says she's constantly asking questions.
"What I have learned is that we cannot assume the world is the same everywhere," she said. "I've learned to be sensitive to that. There's no better or worse – there's just difference."
Erick Ortiz, a franchise business director with Domino's, mirrored the sentiment that being a Hispanic individual can be tough. He was born in Guatemala and came to the U.S. when he was 7 years old.
"The two lessons I've learned is that I will never ever allow anyone to make me feel bad because of my accent, my background or my heritage," he said. "I'll learn, I'll move forward, but I'll never let it make me feel like less of a person. The second lesson I've learned is to respond back with my actions – with my character. Not by acting in an ignorant way."
Although coming from a different background can be challenging, it comes with the gift of being able to bring diversity to the table.
"I firmly believe diversity allows us to recruit people from different backgrounds and experiences," said Esteban Hernandez, a Domino's franchise business consultant. "Having a diverse group of people can lead to creative ideas, solutions and more than anything, problem solving. Having a workforce that comes from a diverse background can make team members feel included. We know that when employees feel included, they're more engaged. When they're more engaged, they tend to be happier, they tend to want to stay where they're at and they tend to be loyal. I can tell you that's why I'm here and have continued to stay at Domino's."
Esteban said that even though there were times in his life when he didn't fit into the demographic, he never let it stop him from pursuing his goals.
"I learned that if I wanted to take it to the next level, I needed to know what was expected of me," he said. "I had to go out there and seek that knowledge. I personally own my development. It's great if you want to do something. Raise your hand. Reach out to people. But at the end of the day, it's totally up to you to drive your development. You're in the driver's seat. Take charge."
Fernando Salido, a Domino's franchisee who was born in Texas but raised in Mexico, said the most valuable advice he can share with members of the Hispanic community who are struggling to reach their full potential is to be patient and remember that they're not defined by their low point.
"Every little thing we do to improve ourselves is a step in the right direction," Fernando said. "I also recommend to never hesitate to reach out to somebody more experienced than you. Keep on learning from every individual. Just reach out and don't forget to stay humble."
Brian Trier, who serves as Domino's vice president of global operations support and who moderated the panel, also noted that speaking Spanish should be looked at as an asset.
"Speaking more than one language opens opportunities," he said. "Never think that it closes them."
---
For more information on this story, contact us.