Upcycle Your Domino's Pizza Box: Create a Spooky Box-O'-Lantern This Halloween
Published: Oct. 16, 2020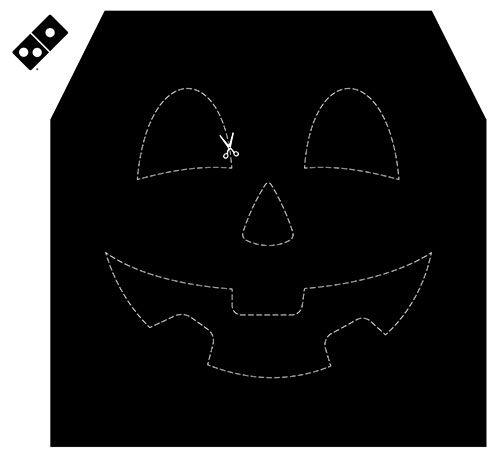 Looking for a spooky good time this Halloween? Domino's has you covered! Nothing says Halloween like carving your very own box-o'-lantern!
Halloween is one of Domino's busiest nights of the year for pizza delivery, and now, your pizza box is good for more than carrying a delicious pizza! Domino's has created two templates for you to use to create your very own box-o'-lantern. Choose from a ghastly ghost stencil or a cheerful jack-o'-lantern stencil.
Want to make one? It's easy! Just follow these simple steps:
Choose which stencil you'd like to use and print it out.
Tape or glue the stencil to the inside top of a Domino's pizza box.
Use a precision knife (like an X-ACTO) to carefully cut along the dotted lines (adult supervision is recommended). Pizza boxes are thick, so it may take some effort.
When finished, position the box so that the lid is standing up. You may want to use a little tape.
Turn the lights off and place a flashlight or other light source in the bottom of the box to illuminate your box-o'-lantern.
Enjoy your boo-tiful creation!
---
For more information on this story, contact us.