Domino's Helps Feed Students Across Miami-Dade County
Published: April 14, 2020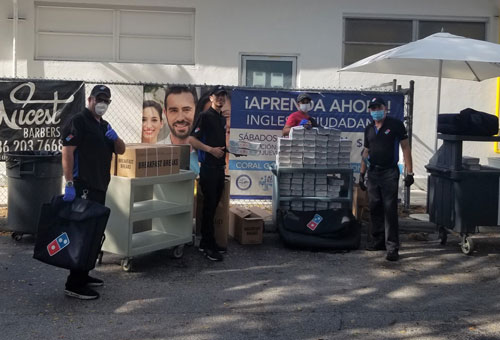 Domino's corporate stores and franchisees across the country are doing what they can to help during the COVID-19 crisis. This story is part of a series where we highlight local Domino's owners and team members who are giving back to their communities.
GENYOUth is a national nonprofit organization that empowers students to create a healthier future for themselves and their peers. In the wake of the COVID-19 pandemic, GENYOUth is providing grants to schools to provide much-needed resources to get food in the hands of students.
Through efforts preceding the pandemic, GENYOUth has a strong relationship with Miami-Dade County Public Schools. When the school district approached GENYOUth looking for help to feed children who lost access to meals when schools closed, the team knew Domino's could assist.
More than 30 corporate-owned Domino's stores in Miami-Dade County are providing free pizza to students on Tuesdays and Wednesdays for five weeks. Domino's is partnering with about 50 local schools to provide a total of 90,000 meals for youth in the area.
"No child should go hungry during these school closures," said Alec Blancarte, Domino's director of corporate operations in Miami. "We admire and appreciate the efforts made by Miami-Dade County School District to provide meals and reduce food insecurity. Our team is grateful to have an opportunity to help by providing pizza."
For more on what Miami-Dade County Public Schools is doing to support fragile neighborhoods during this unprecedented time, visit covid19.dadeschools.net.
---
For more information on this story, contact us.