Fred Pearson: Empowering Black Youth
Published: Jan. 29, 2020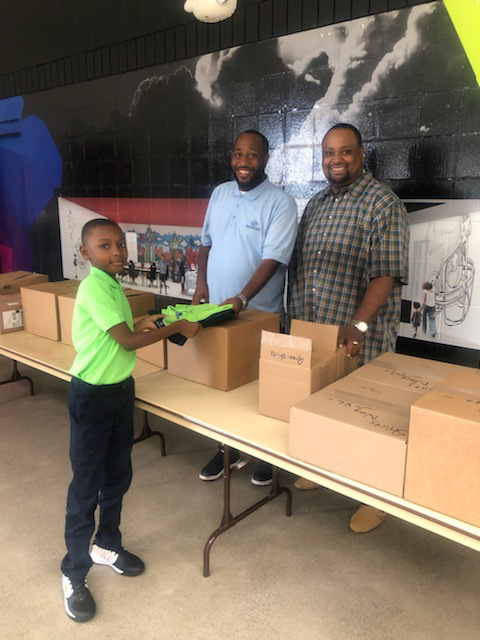 If you ask Fred Pearson if he's always wanted to work for Domino's, he'll tell you no, it was a case of divine intervention.
Nearly 17 years ago, Fred was working as a manger in retail. One day, he drove his younger brother around to help him find a job. After a long day visiting various businesses, the last stop of the day was Domino's Equipment and Supply Warehouse in Livonia, Michigan. Feeling a bit cooped up in the car, Fred decided on a whim to apply with his brother. He received a call from Domino's later that day to start as a warehouse order picker. And the rest, as Fred says, is history.
Domino's dedication to recognizing team members for their accomplishments is what made Fred fall in love with the brand. After seeing a coworker recognized at a monthly team meeting, Fred made it a goal to receive the same acknowledgement. He was recognized the following month and then went on to receive the Rookie of the Year and Employee of the Year awards at the center's annual awards ceremony. Since then, Fred has advanced to his current role as a capital goods specialist.
"I believe that is what makes Domino's special," he said. "They recognize that it's important to support the efforts of hard work and build from within. Domino's looks for the employees who stand out and puts them into position to excel."
Recognition and appreciation are important to Fred outside the workplace, too. He sees the significance of sharing success, especially in black communities.
Since Fred grew up in the inner city of Detroit, he's seen how black families in poverty live and how difficult it is to break out of the struggles of their everyday life if they've never seen anything else. He said it's important for him to share with others in his community, especially kids, ways to succeed by highlighting the accomplishments of other black people.
"Black History Month gives us something to be proud of and awakens a hunger to be greater because they know it can be done," Fred said. "It's not a month just to show off or brag, but a month to empower."
Fred works with kids at the local Boys & Girls Club and with youth groups at his church. He hopes by sharing more black history and positive views of people of color, kids will realize the impact black people have had on the world.
"It's really a testament to how far we've come and what anyone can accomplish if given the opportunity," Fred said.
---
For more information on this story, contact us.