Happy Future Farmers of America Week, From Domino's
Published: Feb. 17, 2023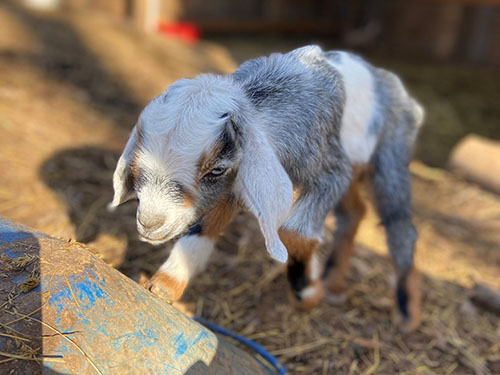 Feb. 18-25, 2023, is National Future Farmers of America Week and Domino's is excited to partake in the celebration. During this time, FFA chapters across the nation will show their pride by participating in events that develop their skills and display the positive impact FFA has on its members and the future of agriculture.
Since Domino's and FFA's partnership began in 2017, Domino's has awarded 100 students with Supervised Agriculture Experience (SAE) grants annually, wherein they conduct agriculture projects unique to their interests. SAEs allow FFA students to gain real life experiences based what they learn in the classroom. Domino's has previously awarded SAE grants to student projects ranging from raising lambs and egg laying to salsa canning and goldfish breeding!
Anna Grohs, 12th grader and Liberty FFA member in Virginia, was awarded a Domino's-sponsored SAE grant in 2022 for her projects dedicated to animal care and medicine.
Anna's main project applies her knowledge of genetics to goat production where she selectively manipulates genes to result in healthier, more desirable offspring. With this grant, she breeds goats by meticulously increasing desirable genes and diminishing undesirable ones. In addition to this, Anna has another project which involves raising show pigs and teaching them to follow basic commands.
"To me, FFA means knowledge," said Anna. "I have gained so much knowledge from my FFA teachers, agricultural science classes, hands-on projects and participating in competitions. I would not be where I am today without FFA."
Anna takes pride in sharing what she's learned with others. Part of Anna's SAE involves promoting agriculture in her community by offering free farm tours to local children. She also uses her goats to clear landscapes for neighboring farms and serves as a consult on raising and breeding farm animals to others.
Not only has Anna had success through her SAE, she placed first in the 2022 Virginia State Veterinary Science Competition. In the future, she hopes to earn a bachelor's degree in biomedical engineering and from there attend the Virginia Maryland College of Veterinary Medicine.
Domino's support of FFA leaves a positive impact as they provide the foundation for the future of food, agriculture and environmental consciousness in America. Through the sponsorship of SAE grants, Domino's fosters the next generation of innovation, creativity and sustainability in agriculture. With the current five-year, $1.5 million commitment to FFA, Domino's will help fund the development of sustainable agriculture resources, collegiate scholarships and SAE grants.
---
To learn more about FFA and SAEs, click here.