The First 5 Years: A Look at Domino's Commitment to FFA
Supporting the future of agriculture through education, service, mentorship and advocacy
Published: June 16, 2021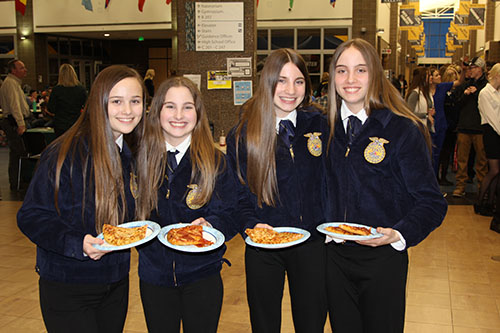 In 2017, Domino's made a commitment to donate $1 million over five years to the National FFA Organization – also known as the Future Farmers of America. FFA is an intracurricular student organization for those interested in agriculture and leadership. Through agricultural education, FFA prepares middle school and high school students for leadership and career success.
Domino's knows the success of farmers and the agriculture industry is critical to the success of Domino's. Without the hardworking wheat farmers, tomato farmers, dairy farmers and many others, there'd be no pizza. Supporting FFA means supporting the future of agriculture.
Because of Domino's $1 million contribution, FFA was able to award scholarships to more than 85 students pursuing careers in agriculture. The scholarship recipients spanned a variety of majors, from soil sciences to veterinary medicine to mechanical engineering, at many different universities across the U.S. The gift also funded grants for FFA students' supervised agricultural experiences (SAEs), which are service or work-based projects outside of the classroom. Examples of student entrepreneurship projects funded by grants from Domino's included poultry production, floral design and even a salsa company!
FFA and Domino's partnership also included annual funds for Living to Serve grants. The grant program provides middle and high school FFA chapters with up to $3,000 to support a service-learning project that spans an entire school year and meets a community need that falls within one of four focus areas: community safety; hunger, health and nutrition; environmental responsibility; or community engagement.
Domino's is also a level one sponsor of FFA's national agriculture literacy and advocacy program. The program helps educate students and communities about current issues affecting the agricultural industry. Through activities like #SpeakAG Dialogues, students have a forum for intelligent discussion, reason and effective conversation to expose themselves to multiple sides of current agricultural issues.
In the beginning of our partnership, Domino's and FFA were two of more than 82 farm groups, youth organizations and agricultural associations that signed a letter to Congress, which was delivered on March 21, 2017 – National Agriculture Day. The letter expressed the need for policy allowing the teaching of agricultural literacy and advocacy in classrooms, encouraging students to return to the farm or to pursue agricultural careers, and supporting them in doing so. It equipped youth-serving organizations to prepare the next generation of agriculturists.
Since 2017, dozens of teachers and students, including FFA state and national officers, have visited Domino's World Resource Center in Ann Arbor, Michigan. During these visits, the FFA representatives heard from executives on the company, its industries, challenges and goals. In turn, FFA was able to help educate the Domino's team about FFA, agricultural education, and how they think companies and farmers can best work together. Likewise, FFA opened its doors to Domino's. Franchisees and corporate team members gained insight on the agriculture industry and agriculture education at national conventions, attended chapter celebrations, and judged contests at the regional and national levels.
Domino's is proud to support FFA and looks forward to taking more steps to help the next generation of farmers working to feed people in neighborhoods across the U.S.
---
For more information on this story, contact us.