Domino's Female Franchisees Discuss Challenges They've Conquered
In celebration of Women's History Month, we are highlighting and sharing stories from a variety of female corporate and franchise team members throughout the Domino's brand.
Published: March 30, 2021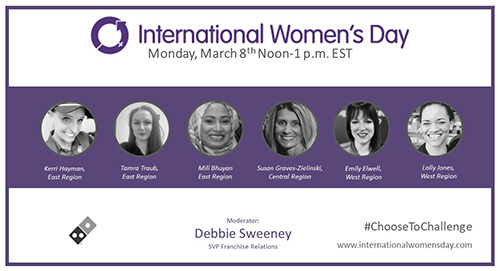 The 2021 International Women's Day theme, "Choose to Challenge," isn't something that Domino's female franchisees are strangers to. In celebration of the day on March 8, six of the brand's front-line ladies gathered together virtually to discuss how change and achievement came from their challenges.
"When I first went to a business planning meeting, I think there was one other female franchisee … and I was just like, 'Oh geez, I am in the wrong room,' and that was terrifying for me," said Lolly Jones, a Domino's franchisee in Oregon, who was featured in one of the brand's commercials in early 2020.
She said people from all around the world started messaging her on Facebook, saying it was nice to see someone who looked like them in a commercial.
"As much as I didn't feel like I was in the right room, all of a sudden, I was creating that room for others," Lolly said.
Another Domino's franchisee, Kerri Hayman, who owns 14 Domino's stores throughout South Carolina and Georgia, said that she's been with the brand since the age of 15 and that as a leader, she faced failure quite a bit.
"I definitely had my share of learning how to manage people the wrong way," she said. "I did come out the other end of it, and our business is going really well right now. We've still got a lot of work to do, but it was a very brutal lesson in my 40s, feeling like I was starting all over again."
Among many things, motherhood was one thread that tied the participants of Domino's fireside chat together. Mili Bhuyan, a New York franchisee, spoke about building her first store while pregnant, and having to deal with delayed construction. She gave birth 17 days before the grand opening and visited the store shortly thereafter. When asked why she was there, she said, "Hey, this is a priority."
Kerri also commented on how she dealt with being a mom and a business owner at the same time.
"My kids came to every customer appreciation day and got their faces painted," Kerri said. They were a part of all of it … and they still are. But now, I have a good team around me, and I strive to have the weekends with the kids."
Although each franchisee's story is different, there is one common thread: Domino's is proud to support its female franchisees and team members, and encourages more women to become leaders.
---
For more information on this story, contact us.