Domino's: A Family Affair
Published: March 18, 2019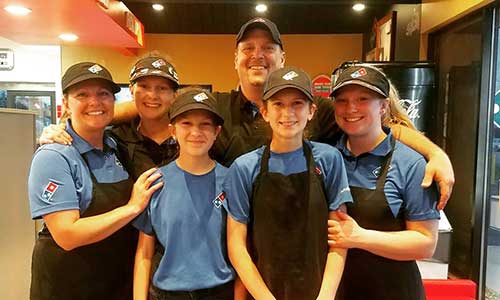 Arntson grew up in a household where his parents would order Domino's every Saturday night. It was always ham, mushroom and extra cheese for Mom; pepperoni, sausage and extra cheese for Dad. And Eric was always that kid who would stand at the front door, anxiously awaiting the arrival of the delivery driver.
It seems as though Domino's loyalty ran through the Arntson blood, as Eric's cousin Randy worked for Domino's corporate headquarters throughout the 1980s – holding various roles – before franchising in 1992 in Big Rapids, Michigan. So, when Eric graduated from high school, he just knew that he wanted to deliver for Domino's while attending Michigan State University.
"I pretty much worked at Domino's every single hour that I wasn't in class," Eric said. "After my first day delivering, I was hooked. I fell in love with the culture, the energy of the store and the people. And, I was good at it." Four years and three different majors later, Eric became the general manager of Domino's in Lansing. He graduated with a business major and knew exactly what business he wanted to go into: Domino's. He purchased his first store in 1999 and never looked back.
Eric now owns 12 Domino's locations throughout Michigan and is the proud father of four daughters: Abby, 20; Megan, 18, Emma, 14; and Olivia, 12 – all of whom share his passion for Domino's, as well as his wife, Stephanie. "Domino's is a family affair for us," Eric said. "It's in our blood." Abby hopes to continue the Domino's legacy within the family and open her own store in the next few years. She grew up in the stores and has seemingly held every position, including assistant manager and most recently, general manager.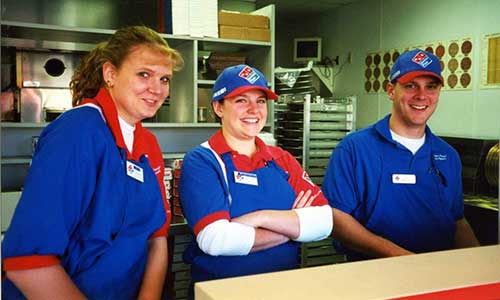 "My favorite part of having Abby working in the stores is seeing how motivated she is," Eric said. "She inspires me and gives me a great deal of motivation as well, and I love mentoring her. She gives so much to the brand and is way better at this than I ever was. Watching her passion and ability to give 100 percent with the best work ethic I've seen in years makes me a very, very proud dad."
---
For more information on this story, contact us.