Domino's Donates Pizzas to Emerging Scholars Students for Virtual Pizza Party
Published: May 14, 2020
Domino's corporate stores and franchisees across the country are doing what they can to help during the COVID-19 crisis. This story is part of a series where we highlight local Domino's owners and team members who are giving back to their communities.
Remote learning can be difficult, especially during the coronavirus crisis when direct access to teachers and peers is limited. To celebrate the milestone academic achievements of Emerging Scholars students in the D.C. area, Domino's donated and delivered pizzas as part of a virtual pizza party on April 22.
"Domino's has a strong team of professionals that we were pleased to partner with to make our virtual programming a success," said Maurice Plaines, Emerging Scholars director of scholars' advancement. "Through their Feed the Need program, they have answered the call of charity like no other. Our pizza party is an example of how compassionate and considerate Domino's is."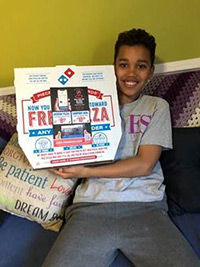 Emerging Scholars' mission is to identify and assist a diverse group of students in the Washington, D.C., area, who could not consider an independent school education without preparation and financial aid. Emerging Scholars provides academic, social and cultural enrichment, as well as leadership and life-skill development, for bright children facing economic challenges. The program at Emerging Scholars' core is the Scholars Academy, which specifically prepares rising fifth graders for admission to independent schools in the D.C. area.
Domino's corporate team members and team members from two different D.C. franchises came together to deliver timed orders to 20 students as part of a virtual pizza party. The fun event was to incentivize and reward participation in the program in these unprecedented times, while also providing a meal to the families – many of whom have been fiscally affected by the pandemic.
"The students enjoyed the pizza, but you could tell what they enjoyed more was the opportunity to virtually celebrate with their friends," said Dorie Pullen, Domino's school lunch program leader, who helped coordinate the event. "It was uplifting for all of the Domino's team members involved to be able to contribute to a fun event for deserving youth in our community, especially during a high-pressure global crisis."
---
For more information on this story, contact us.