Domino's Feeds Multiple Shifts at Doylestown Hospital
Published: May 6, 2020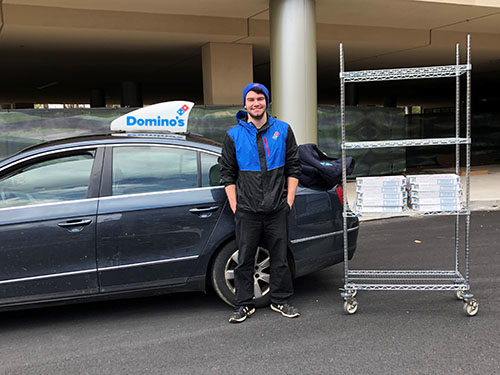 Domino's corporate stores and franchisees across the country are doing what they can to help during the COVID-19 crisis. This story is part of a series where we highlight local Domino's owners and team members who are giving back to their communities.
Domino's stores across the country, including those in and around Philadelphia, are working to help those on the front line in the fight against COVID-19. Domino's in Doylestown and Perkasie, Pennsylvania are no different.
The stores and their management teams wanted to help by providing a steady flow of food for healthcare workers at the Cardiovascular and Critical Care Pavilion on Doylestown Hospital's campus.
"We know hospital staff are working hard to keep others safe, and we wanted to make regular pizza deliveries to them to ensure that they are taken care of as well, for each shift," said Chris Burns, store manager of Domino's in Doylestown.
Domino's in Doylestown and Perkasie donated more than 60 pizzas each week, for eight weeks during the COVID-19 crisis, for a total of 580 pizzas – and they're not finished.
"We have a schedule set up for the foreseeable future to ensure that while they are helping our community out, we are helping them out," Burns said. "Currently, we have no plans to halt our schedule."
Tom Bolger, who owns Domino's in Doylestown and Perkasie, said that since his stores are still able to operate through this crisis, that he and his store team members feel a sense of responsibility to offer support to those in the community who haven't been as fortunate.
"It means a lot to our team members to assist their families and neighbors in need," Bolger said. "We ask our team members daily if they know someone who is struggling, and we give them the opportunity to take a free meal to them. Giving back is something the entire team participates in and feels good about."
---
For more information on this story, contact us.