A Domino's Wedding Story: Couple Marries Inside Las Vegas Store
Published: Feb. 10, 2021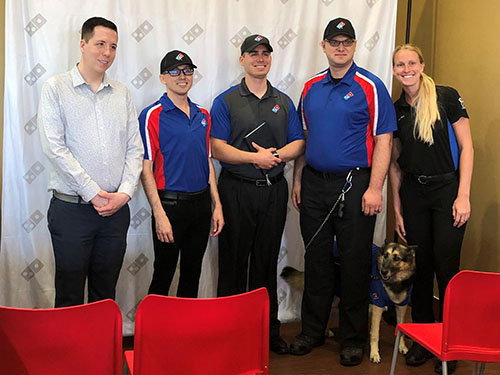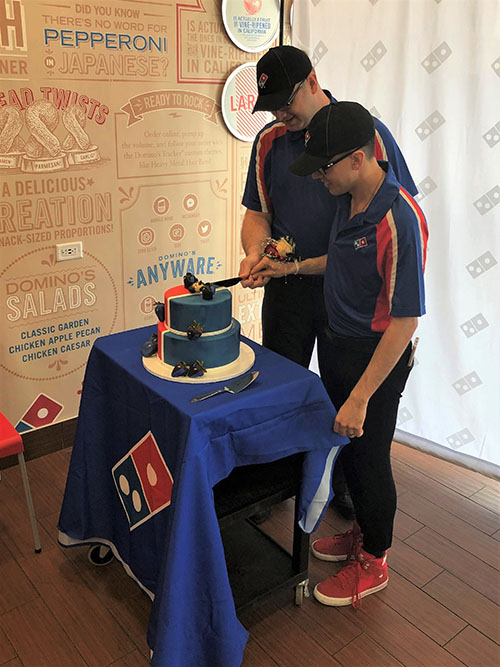 When Mark (Lara) Hutchens and Michael Hutchens met on Facebook through a gamer group in May of 2018, neither of them could've imagined that within a year, they would marry inside a Domino's store in Las Vegas, but that is exactly what happened.
When the two met, Michael had just moved back to Las Vegas from California and was working in security for Caesar's Palace, while Mark was working as a delivery expert for a local Domino's store. They immediately hit it off and began dating. Mark would often talk about how fun it was to work at Domino's, and what a great atmosphere it had, which led to Michael also joining the Domino's team as an assistant manager in August of 2018.
"One day, Michael let me know he wanted to marry me eventually, as things were going really well," Mark said. "Since we met in a gaming forum, I laid down some pretty difficult gaming tasks that I didn't expect him to complete any time soon. A few months later, he finished them and asked me to marry him."
Michael and Mark both worked their way up to management positions in separate stores and would often talk shop at home. They keep up to date with the latest and greatest Domino's news, watch online videos about the brand and discuss store policies. Because of that, Mark jokingly asked Michael, "What if we got married at a Domino's?"
Michael loved the idea and secretly sent an email to Brian O'Hearn, Domino's director of corporate operations in Las Vegas, asking if marrying inside a Domino's store was even possible.
"I thought that there would be no way," Michael said. "Sure, the culture is inclusive and friendly, but something like this is a lot to ask for."
And then to Michael's surprise, he received an enthusiastic and excited "yes," and the wedding planning began.
Michael and Mark worked with Domino's corporate operations team to make sure everything was just right and okay with the group – from the store location, to having food at the reception, including Michael's service dog, Samantha, in the ceremony, and even having Brian officiate the ceremony.
"It was so nice to see that our corporate leadership team isn't just friendly in a professional capacity, but that they really care about their team members personally," Mark said.
With a date picked, location set, and plans in place, Michael and Mark sent out wedding invitations to their friends and family.
"We received mixed responses on the idea of an unconventional wedding, but we mostly received positive responses overall," Mark said. "For those that knew us well, they knew that Domino's was a big part of our lives."
On May 14, 2019, Mark and Michael donned custom-made Domino's uniforms and were married inside a Domino's store, followed by a reception, with, of course, pizza!
"The most memorable part of the day was getting to marry Mark in front of everyone who mattered to us, in a store with a company that helped bond the both of us," said Michael. "The overwhelming amount of support from our family, friends and work made it feel that much more perfect."
When asked if there was anything they would've done differently, Mark replied, "I think our biggest regret is not having a photo in front of the signage saying, 'OH YES WE DID!' for the wedding."
---
For more information on this story, contact us.