Domino's Innovation Garage: Building Toward the Future
Published: Sept. 18, 2019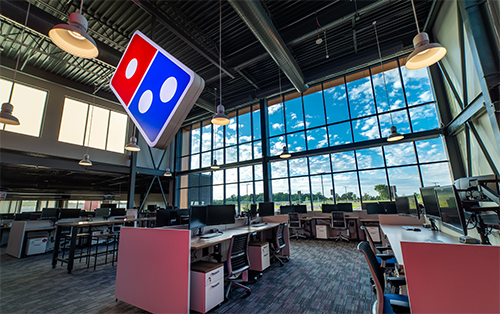 For years, Domino's has dedicated itself to pursuing cutting-edge technology to revolutionize the way we do business and better serve our customers and franchisees. Domino's AnyWare technology offers customers 15 digital ways to place an order, and in the U.S., more than 65% of sales are generated through Domino's digital ordering channels.
On Aug. 21, the brand took the next step in discovering the power of possible with the opening of Domino's Innovation Garage, located at Domino's Farms in Ann Arbor, Michigan.
This 33,000-square-foot, state-of-the-art building has an open-concept design for 150 Domino's team members to collaborate cross-functionally on new Domino's technology. Project teams can develop and test new in-store technology in the building's fully-functioning pizza theater-style store. The Innovation Garage will host all of Domino's current AnyWare ordering technology, in-store technology and a quality assurance lab to test pretotypes.
"This building is a commitment to our brand's future and where we are taking our business," said Matt Zaia, Domino's director of development innovation and administration.
With a new space to pave the way to Domino's future, team members are ready to take on whatever ideas are born from this collaborative working style, including new delivery technology. Domino's Innovation Garage will have a dedicated area for testing delivery innovations, including GPS delivery tracking, e-bikes and customer interface on autonomous pizza delivery vehicles and robots.
"Domino's Innovation Garage is focused on accelerating Domino's spirit of creativity and collaboration," said Kelly Garcia, Domino's chief technology officer. "As a pizza company with a focus on technology, we want our team members to have a workspace that encourages experimentation and fosters an environment to take risks, test innovations and fail fast so they can bring their best cutting-edge ideas to life for the brand's customers and stores."
Domino's Innovation Garage is not only a step forward for Domino's team members and franchisees, but an investment to better serve our customers.
"Having a hub for our community of smart, creative and dynamic team members to develop our brand and take it to the next level is important for our continued success," said Garcia. "We're proud to now have a space dedicated to learning, exploring, testing and launching new ideas in a way that only Domino's can do."
---
For more information on this story, contact us.