Domino's Donates 4,000 Pizzas Throughout Dallas-Fort Worth Area
Published: April 22, 2020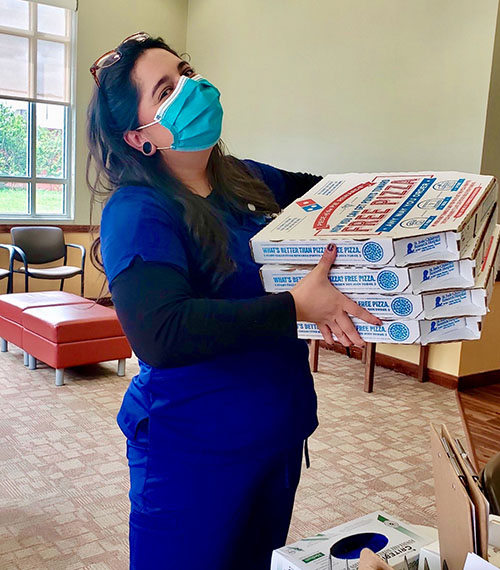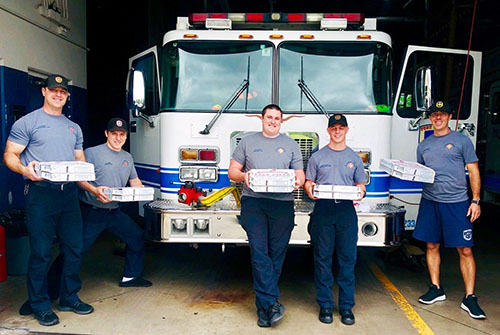 Domino's corporate stores and franchisees across the country are doing what they can to help during the COVID-19 crisis. This story is part of a series where we highlight local Domino's owners and team members who are giving back to their communities.
Domino's stores throughout the Dallas-Fort Worth area are committed to giving back to essential workers and those in need across the area. The stores banded together to launch the Dallas Gives Back Pizza Blitz on March 31. During the blitz, 65 Domino's stores in the Dallas-Fort Worth area donated approximately 4,000 pizzas to essential workers at Cook Children's Pediatrics in Haslet, Parker County Emergency Services, Dollar General in Fort Worth and more.
One of the recipients of the Dallas Gives Back Pizza Blitz was Dallas Life – the largest homeless shelter in the area. Unfortunately, the shelter experienced a power outage that day, rendering it unable to cook any food. A Domino's store in downtown Dallas teamed up with a nearby Pizza Hut location to quickly provide a hot meal to hundreds of people at the shelter.
"We received a panicked call from the shelter and knew that in order to help, we'd need to act quickly," said Jim Moran, area supervisor for Team Bailey – a Domino's franchise in Dallas. "I called a nearby Pizza Hut general manager so that we would be able to take care of even more people in downtown Dallas during a critical time. Together, we were able to get everyone fed that day and I'm glad the shelter thought of calling Domino's to help."
Even though the pizza blitz is over, the giving continues. Each Domino's store throughout Dallas and Fort Worth will donate an additional 200 pizzas per store to continue supporting medical staff, grocery store employees and school feeding programs.
---
For more information on this story, contact us.