Domino's Celebrates Heroes During Annual Soldier Appreciation Day
Published: June 5, 2019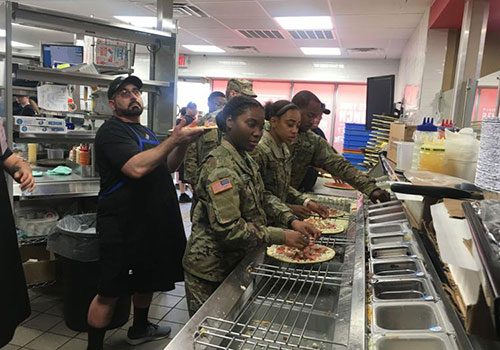 Domino's stores across the country celebrate heroes every day. One of those stories takes place in Copperas Cove, Texas. For the 14th year in a row, Domino's in Copperas Cove hosted a Soldier Appreciation Day to thank soldiers and their families for the sacrifices they make every day.
On Sunday, April 28, the local store made and gave away more than 750 free pizzas to active-duty military, veterans and their families. Not only did they receive free pizza, but the store also had a DJ, balloon artist, face painters and activities on-site.
"It's an honor for us to serve our heroes," said Chris Herd, who serves as MAC Pizza Management's (the franchisee who owns Domino's in Copperas Cove) regional operations director. "They give so much for our country that throwing a fun, family-friendly event is the absolute least we can do to show how much we appreciate all that they do."
In addition to pizza and entertainment, Domino's offered popcorn and partnered with Bits 'N Bites Cake Shop – a local business that donated miniature cupcakes for the event.
How It Started
Chris and Ingrid Keifer, who does public relations for MAC Pizza Management, both wanted to do more for their local Fort Hood soldiers. They originally handed out free pizzas to those coming back from deployments, but in 2004, they held their first Soldier Appreciation Day.
"We felt that it was important to not only talk about supporting our soldiers, but to actually do it," Chris said. "Domino's in Copperas Cove wanted to go above and beyond, so every year, our military appreciation event has grown tremendously."
The store strategically holds the event on Sundays so that soldiers can enjoy the special day with their families as well.
"Families of military members also serve, so we wanted to honor them as well," said Chris. "We love watching how much fun everyone has as they make their own pizzas. It's such a simple thing, but it brings joy and is the least we can do."
---
For more information on this story, contact us.