Get to Know Cindy Headen
Published: March 3, 2021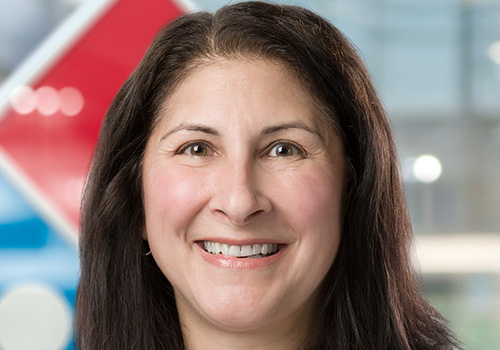 For Women's History Month and International Women's Day, we sat down with Cindy Headen, Domino's executive vice president of supply chain services, to ask about her life, career and advice for aspiring female leaders.
Q: What is one thing people don't know about you?
I discovered a love for dinosaurs during a visit to the Natural History Museum when I was 30! If I were to do it all over again, I would have been a paleontologist.
Q: What is your favorite part about your job?
While I am energized by the ability to have results impact on an enterprise, the best part of my job is the ability to support team member career development at all levels of the organization. I mentor quite a number of folks across levels and functions, both internal and external to Domino's. It's an amazing feeling to watch someone succeed (as defined by them) with a career development goal or objective after spending significant time with those folks. They in turn will do that for someone else because of what it meant to them, which fosters a more inclusive and productive work environment. I am proud to be part of that progression.
Q: What is the best advice you've ever received?
"If it makes you feel uncomfortable, then it's a critical experience." If you want to continue to learn and grow, then you need to be comfortable with being uncomfortable. I always want to learn so I have become accustomed to being uncomfortable.
Q: What do you want to say to the next generation of female leaders?
My hope would be that women focus on what they want to be respected for in terms of work product, professional acumen and team development. I hope women see that if you stay true to who you are while delivering results and developing high performing teams/talent, that they will be valued and can grow as far as they choose to or, as opportunity allows. I hope that when each woman achieves their aspirations, they pay it forward.
Q: Why is talking about Women's History Month and women in leadership important to you?
The work demographic is evolving, and women are a significant part of that evolution. Their unique perspective based on experiences and aspirations will continue to be more instrumental and foundational as the workforce evolves.
---
For more information on this story, contact us.