A Look into Domino's Rapid Growth in China
Published: August 4, 2021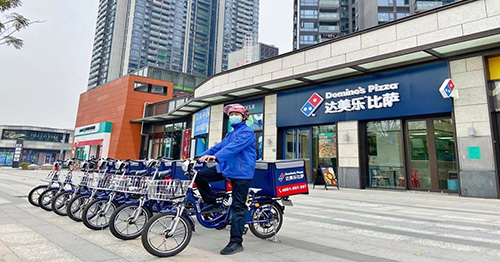 Domino's Pizza China celebrated the opening of its 400th store in May 2021. To put that in perspective, when Aileen Wang was hired as CEO in 2017, there were only 106 Domino's stores in the whole Chinese market.
Aileen has led the Domino's® brand to rapid growth in China, and she's not stopping – the market is already targeting the opening of its 500th store by the end of the year.
According to Aileen, this remarkable success has been driven by four Ds:
Development acceleration
Digital leadership
Delivery excellence
Delicious pizza at value
Accelerated Development
The last three Ds are similar to what you might find in Domino's organizations across the world. However, the key for Aileen has been focusing on accelerated store development. China has a great amount of space for Domino's to grow into, and the first thing she did after joining the brand was focus on building a team that was ready to grow.
"When I joined, the team was used to opening maybe 20 stores in a year," Aileen said. "That wasn't bad for our size at the time, but we needed to break that mindset to set ourselves up for further growth. We needed a team that believed we could open more than 100 stores in a year."
Digital Leadership
Once her team was ready for that kind of rapid growth, they needed to prepare the digital foundations to support it.
"Even though we only had 100 stores, the full function needed to be there for the system to work," Aileen said.
She knew they'd need a digital platform that could scale up as quickly as the number of their stores, so she hired visionary information and technology leaders, and also took notes on what was working for the global Domino's brand.
Delivery Excellence
For Domino's Pizza China, the prominence of large delivery aggregators initially made hiring delivery experts difficult, but Aileen found that Domino's could provide something that the aggregators couldn't.
"Aggregator deliverers have nowhere to be stationed and that makes it difficult to create bonds," she said. "Besides that, I don't think they have a career track. We treat our delivery experts like family, like a part of our team. They have somewhere to be between deliveries, they have career opportunities, they get recognition for good work."
According to Aileen, these kinds of intangible benefits help make Domino's Pizza China a competitive employer.
Delicious Pizza
Of course, all the delivery and digital expertise in the world doesn't mean a thing if it doesn't come with delicious pizza. For Aileen, Domino's China's potato bacon pizza was the sign she needed to let her know that Domino's was the company for her.
"The first bite, I fell in love," she said. "I trust the food — if the food itself is tasty, there's always opportunity."
---
For more information on this story, contact us.