Franchisee Spotlight: Chad Vickers
Pizza maker-turned-franchisee opens two stores at age 23
Published: August 18, 2020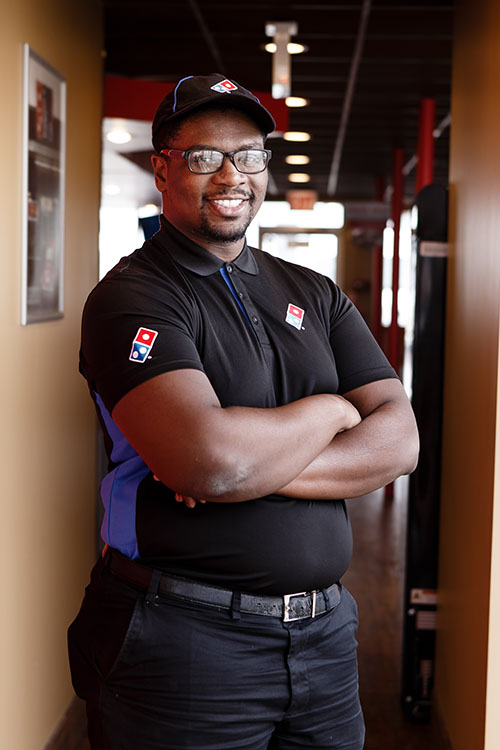 At just 23, Chad Vickers took a chance by moving to Chicago – a city brand new to him – to pursue his dream of owning and operating Domino's stores.
Chad discovered his desire to own a multistore franchise in college. He started answering phones and making pizzas at a Domino's location in Buffalo, New York. After quickly becoming an assistant manager, he saw the opportunities offered to team members by franchisees who were opening new stores. A growing franchisee promoted Chad to supervisor and mentored him as their team built up the Buffalo market.
The leadership in Buffalo inspired Chad. He worked with a supervisor who enrolled in Domino's Franchise Management School (FMS). FMS teaches team members everything they need to know about owning and operating their own Domino's franchise.
Chad decided to enroll in FMS himself. The experience opened his eyes and showed him how truly possible it was to franchise. At the age of 23, he opened two stores in Chicago.
Chad found Chicago familiar and comforting, as he grew up in the Bronx. He appreciates the foot traffic, the public transportation and ultimately, the sense of pride that Chicagoans have.
"You can't compare Chicago to anywhere else," Chad said. "After a few years operating my stores and exploring the city, Chicago feels like home now."
The goal Chad developed in FMS was to open one store every two years. It has been a couple of years since Chad opened his first two stores, and he now has three with plans and passion to continue expanding. The development of his own franchise allowed him to offer opportunities to others, like the team in Buffalo did for him. He uses his growth to motivate and expand roles for his team members. Offering his team a path for growth, as well as hiring diverse talent that represents the neighborhood, has reduced Chad's turnover, increased team member satisfaction and improved the stores' performance.
What's next for Chad? He's looking at another store – there is opportunity to build in the communities in which he is already so proud to live and serve. His team is engaging with the local Chamber of Commerce and planning back-to-school backpack giveaways for Chicago Public School children. Chad looks forward to the years of growth ahead, and the opportunity it will bring for his team and the community members in his new home of Chicago.
---
For more information on this story, contact us.